Boston Office Space
Boston City Properties has 1,000's listings in every neighborhood in the Boston area. Our listings are updated daily.
Click the "Search Office Space" link below to gain free access to search up-to-the-minute Boston office space for sale & rent. This system includes not only our listings, but literally all of the largest real estate brokerages in the Boston area post listings to the database this site is linked to. All listings should be up-to-the-minute and have photos, etc.
Tenant Representation Services
Whether you are seeking to lease new commercial real estate for your business, need to downsize to a smaller property or are facing the expiration of an existing lease, it is crucial to have qualified tenant representation. That's especially true in today's highly competitive local commercial real estate market. With vacancy rates at or near record lows and tons of competition for everything from Class A to Class C properties, having the right representation by your side is the only way to ensure that you end up with a property that suits your budget and other needs. BCP offers tenant representation services that make all of the difference in the world.
Our tenant representation services are available to companies of all shapes, sizes and configurations. They can assist you with traditional leases, specialty leases, short-term or pop-up leasing, ground leasing, purchasing and even building to suit. Regardless of which category your business falls into, BCP's tenant representatives have the knowledge, skills and connections that are needed to produce cost-effective, strategic results that help your business to flourish like never before.
A few reasons to line up tenant representation when seeking commercial real estate for lease in the city include:
Unbiased support – Our reps have no obligations to specific landlords or buildings.
Comprehensive services – Finding and assessing commercial real estate options is a full-time commitment, and our representatives can handle every aspect of the process for you.
Negotiations – Make the most of market conditions and timing through expert negotiation services that help to create the most leverage for your business.
Resources – Our tenant reps have access to a vast array of resources, including lists of the best and most timely commercial real estate options. These include proprietary real estate databases; connections with landlords across the city; and off-market knowledge, including sub-leases.
Customized services – BCP's reps work closely with you to find commercial real estate for lease that best suits your business. They analyze and define things like your objectives, current budget and future growth potential to arrive at solutions that are personalized to suit your requirements. By asking questions regarding things like locations and amenities that you prefer, they give you a crucial edge in locating and leasing prime commercial real estate downtown and elsewhere.
Why BCP for Tenant Representation Services?
By contacting BCP, you can be connected to tenant representatives that employ creative techniques to help you identify commercial real estate that most perfectly suits your preferences. With their help, you can maximize the value of the lease that you acquire; obtain the best price for the property that you need; enjoy decisive guidance and information that allows you to meet and even exceed your fiscal, operational and workforce objectives. All the while, our reps safeguard your interests to ensure quality results. Our tenant representatives employ the latest and best research and technology to perform effective tenant-mix comparisons; operational and competitive analyses; and demographic studies. Commercial tenants are provided with in-depth reporting and digital tracking, so they are kept in the loop every step of the way.
Tenant Representation Services
Contact BCP to be connected with talented tenant representatives who provide the following services and more:
financial and market analyses
commercial real estate lease acquisitions and dispositions
economic incentive analyses
strategic planning
lease auditing
lease and sale negotiations
site selection
BCP's tenant representation services are designed to act as advocates for busy tenants who can't afford to devote the considerable time and effort that are needed to find suitable commercial real estate and commercial leases. After all, you need to focus on the daily operation and growth of your business, so how are you supposed to find time to locate suitable real estate in this vastly competitive market? If you rush the process, you can easily end up with a lease or property that falls far short of what you actually need, and this can negatively impact everything from your bottom line to your potential for future growth.
Contact Us Today for Tenant Representation Services
The quality of the real estate that you lease for your business and the structure of the lease itself have profound impacts on the overall success of your company. With so many prospective tenants vying for so little available commercial real estate both downtown and in neighborhoods like the Seaport District, Back Bay and Beacon Hill, it's easy to see why going it alone is not a smart move. Arm yourself with the best odds of success by contacting BCP today for a referral to tenant representatives who will go the distance for you and your business.
Landlord Representation Services
Commercial real estate properties downtown and in neighborhoods across the city present excellent investment opportunities for savvy property owners and landlords. If you are looking to lease out properties in a building that you own, do yourself a favor and turn to BCP for effective landlord representation services. Leasing out a commercial property requires a great deal of planning, research and other legwork, and finding the time to get that done as a property owner is no easy feat. Read on to find out how our landlord repesentation services can help.
Regardless of the type of commercial real estate that you own – whether it's Class A commercial real estate in a prime downtown area or a lower-grade commercial property elsewhere in the city – BCP's landlord representatives can give you the competitive edge that you need to identify and acquire reliable and lucrative tenants. Our reps can help you to locate businesses that suit your property the best. They employ in-depth screening processes to zero in on tenants that will generate the most rental income while providing the dependability that you need to maintain and grow your bottom line.
Some of the services that you will enjoy by obtaining landlord representation services from BCP include:
Marketing plan assistance – What is the best way to effectively market the property that you own? That depends on a number of factors, including your target audience and the nature of the real estate that you own. Landlord reps can perform analyses and take other steps to inform an effective marketing plan that gets the results that you need.
Effective exposure – You are more likely to find tenants that pay the best rent and stay put for the long term when you cast the widest net that you can. Landlord representatives know how to highlight the best characteristics of your commercial property – and who to target – to bring in tenants that help you to meet and exceed your objectives.
Huge databases of potential clients – BCP's landlord reps enjoy access to vast, proprietary databases of potential tenants, giving you a great edge. Not only that, but these databases include local, regional and even national options, allowing you to search as far and wide as possible to arrive at the best solutions.
Marketing guidance – The right rep can put you in touch with the resources that you'll need to market your commercial property effective in both print media and online. They know effective strategies for marketing properties of all kinds to tenants of all sizes, shapes and scopes. Regardless of the industries that you may be targeting, effective landlord representation services allow you to reach out to them in clear and convincing ways, allowing you to connect with prospects that align well with your short- and long-term leasing goals.
Tenant screening – A great deal of work is involved in thoroughly and effectively screening prospective commercial tenants. The right landlord rep can help you to engage in risk-free leasing and to get the highest possible rental price for the commercial real estate that you are looking to lease. They set strict qualifications for potential tenants, ensuring that only serious prospects with the ability to follow through with stringent commercial leasing contracts are brought your way.
Tenant interviews – After identifying a list of highly relevant prospective tenants, landlord representatives can perform interviews that help to weed out potentially risky options. That way, you are more likely to find low-risk tenants that are more likely to remain at the property for many years to come, providing stable and reliable rental income that is certain to dramatically improve your bottom line.
Why BCP for Landlord Representation Services?
At BCP, we realize that you have plenty of options when it comes to finding landlord representation in the greater metro region. Whether you are looking to lease commercial real estate that's in prime downtown locations or in more far-flung parts of the city, it is crucial to have the right help. You will find it more quickly and easily by connecting with BCP. We have connections with local landlord representatives and brokers who cater their services to suit the exact needs and requirements of busy landlords. They know how to navigate the city's highly competitive commercial real estate market to help you to identify long-term tenants who will deliver the best rental prices and profits for you. We're ready when you are, so contact us today to get started.
We can also send you a list of general office buildings that usually always have availability such as 75 Arlington Street in the Back Bay. Many office buildings usually offer concierge services, as well as a conference room, utilities, internet, and more.
E-mail us or call 617-247-1933 with any questions and to set up showings to view the offices!
Office Space Classifications
The Building Owners and Managers Association (BOMA) classifies office space into 3 categories:
Class A office buildings are the most prestigious of office buildings and have high quality finishes, higher quality facilities, and generally higher rents.
Class B office buildings have generally average finishes, and average rents.
Class C office buildings are generally basic office buildings aimed toward tenants requiring functional space and rents below average for the area.
Productive Boston Office Space Awaits You
Boston is one of the leading cities for business in the United States, and there are Boston office spaces filling up fast in all districts. Even with economic struggles suffered around the globe in the past 20 years, the vibrant work centers throughout the city have never fallen. While industrial work continues to thrive, the city is bubbling with small start-ups, entrepreneurial spirit and the creativity of the rapidly-advancing technology and financial markets. Have you thought about elevating your business with a prestigious address in the Financial District? If your business is based on creativity and innovation, consider a move to the Innovation District currently emerging within the city. You may also find your perfect fit in the dynamic Back Bay region or somewhere closer to Chinatown.
Whether you're in finance, medicine, publishing or research, you can find downtown Boston office space that keeps your company productive and within easy access of other Boston businesses. Whether your primary concern is location, aesthetic appeal or the price tag, we will help you maneuver the local real estate market to find the perfect Boston office space rental.
Boston City Properties is your gateway to office suites suitable for a team of one or a team of hundreds. Whether you work best in your own space or are interested in shared office space, Boston real estate professionals are ready to help you identify the right office space to fit your functional needs as well as your budget. If you're moving across town, across country or from another country entirely, we are ready to help you thrive in Boston!
Amenities to Suit Your Professional Needs
You can find commercial buildings in downtown Boston that offer a variety of convenient features, including:
Concierge services
Free internet connections
Conference rooms
Utilities
Think about the daily needs of your business, and make a note of amenities that may make your professional life easier. There is a chance we can help you find a Boston office space rental that offers just what you need at an affordable rate. Keep in mind that you may get more of the amenities you need if you consider shared office space in Boston.
Finding the perfect Boston office space for your company starts with a simple search, but our online search feature is different from most others. It delivers real-time results that reflect Boston's commercial real estate market at this exact moment. It also includes listings from the most prestigious Boston real estate brokerages, so you are never limited to just our listings.
With a simple search, you will put your finger on the pulse of Boston's downtown commercial real estate market. You will have specs and pictures for office spaces in Boston that fit your expectations, and our professional Boston real estate agents can take you to the properties to look around if something grabs your attention.
When you're ready to view a property, call us at 617-247-1933 or send us an email. We will answer your questions promptly and take you on viewings at your convenience.
We understand that there are some circumstances which may put you in a rush to find suitable office space and get down to business quickly. Contact us for a list of Boston office buildings that almost always have vacancies. This doesn't mean that your options are limited to that list, but it does give you an immediate starting point to find the professional space you need as quickly as possible. We also have listings for medical office space throughout Boston & the suburbs. Also, if you are looking to purchase a whole office building, contact us for a list of office buildings for sale in the Boston area.
You can also get started by using our online search function right now. Type in your desired specifications and instantly browse available office space in Boston that fits your expectations.
If you're ready to view the best office space in downtown Boston, call us at 617-247-1933. Our professionals are ready to help you find commercial rentals that support your growing business.
Search by Neighborhood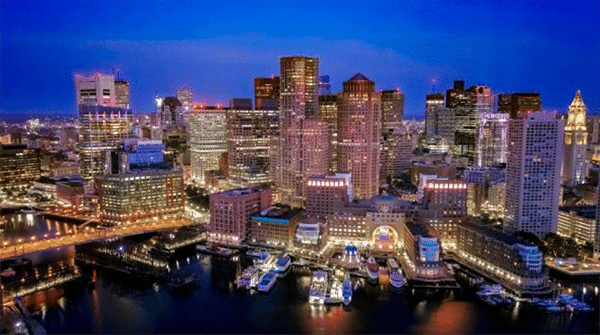 Recent News