All About the Condo Industry in Boston
Boston has a wide variety of condos to choose from that you can rent or buy. They are a great alternative if you want something that you can invest in that will pay off in more ways than one.
Boston condos are highly sought after in the Boston area, and they vary in size, price, and availability, depending on the type and location. They appeal to both renters and landlords due to their potential for passive income, as well as their normal proximity to parks, downtown community activities, eateries, and shopping locales.
If you are looking for luxury condos for sale, visit our Google map Boston's luxury condo developments.
Brownstones in Boston were once single family homes in the 1800's. Many brownstones have been converted into condos. This website includes listings for condos in brownstones, luxury hirises, loft developments, and more.
This database includes listings in:
Click Here to Search
sales
Click Here to Search
rentals
Advantages of Owning a Condo
Most condos are available for sale for the right price. So they are more of a real estate investment opportunity than an apartment or loft. Condos tend to offer more amenities and may be in a more affluent neighborhood than apartment buildings. Apartment buildings are also more ordinary and involve many more units creating a more crowded atmosphere that is true of most condominium units. People like the quieter atmosphere of most condos in Boston and they are willing to pay a bit more for the privilege of having more tranquility at the end of the day.
Why buy a condo?
Renting a condo is an option. Buying is another. Why should you consider purchasing a condo in Boston? Some of the best reasons for buying a condo are mentioned below.
You can live in it or rent it out - Condo purchases allow you to own something of your own in the real estate world but to enjoy terms that are similar to renting an apartment. If you choose not to live in the condo yourself, you always have the option of renting it out to someone else.
Offers a passive income - One way to create a passive income on the side is to rent out housing or condos. Condos are popular, and if they are located in a good neighborhood, you will never have a lack of renters or inquiries. Keep the condo looking nice and renovate it when necessary so that you can charge a higher price if you decide to rent it out.
Gets you into the real estate market - Purchasing a condo to rent out offers you a fast way to get into the real estate game without putting out the expense involved in owning a house. House rentals take a much larger investment of both your time and money and the payback is less in the short-term. With a condo, you can rent out your unit quickly and start seeing an immediate income.
Allows you to pay it out over time without large house deposits - One big advantage to purchasing a condo in the Boston area (or anywhere) is the fact that you can pay it out over time. Depending on the terms of your agreement, you may be able to pay out a condo monthly for no more than you might spend on an apartment. Once you own it, you then have a rental property that you can flip and turn around and have it make you more money.
Other Considerations When Buying a Condo
Remember when purchasing a condo that the purchase price isn't the only thing you have to keep in mind as far as expenses. Most co-ops and condos will have a monthly fee for the upkeep of the property, and you'll also have to pay property taxes. Look into this on our site or search for condo financial obligations when you are considering purchasing your condo units.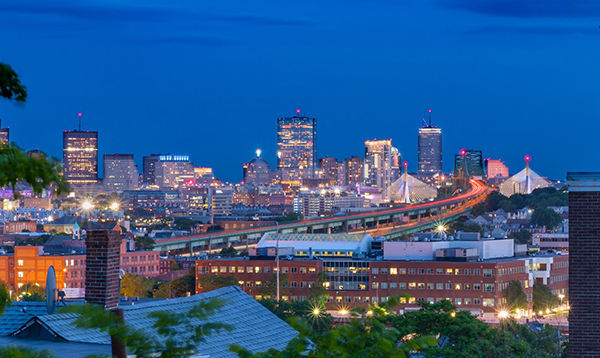 Despite the extra costs, however, buying a condo unit is an investment in your future and can create an additional, passive income if you can afford to make the initial investment and pay it off over time. Pick an excellent location for your purchase and one that will likely be desired by the average renter.
Similar to a Time Share
One distinct advantage to purchasing and renting a condo is the fact that it is similar to a timeshare. Timeshares often do involve condos and are common on beachfront properties and other tourist area towns. They operate by allowing you to purchase the timeshare to use the property for a certain period, then share it with others who also use the property at other times. Everyone involved in a timeshare agreement has access to the property but not at the same time.
Once your purchase a condo unit, it belongs to you exclusively so this is how it differs from a timeshare. However, the two arrangements are also similar in that they both allow you to rent out the property or share the space with others at a different time. For example, you may choose to live in your condo during the central part of a year to be close to a particular area or to work or go to school. Then you may rent out your condo during the summer months when the demand for such units is high.
Also, since the demand is much higher during the tourist season, you may be able to charge more for your unit than you would be able to otherwise.
Types of Condos in Boston, Massachusetts
When you start searching for condos in the Greater Boston area, you will want to consider the different types of condos available. Below is a partial list of the most common types of condos in the Boston real estate market.
Brownstone - Brownstone condos are a type of townhouse that is made of a unique brownstone material composed of sandstone that is often used in building material. Also, they house several separate living units that are separately owned, which is why you will find many of these units within condo areas.
Condo lofts - Condo lofts are condos that have all of the characteristics of a condominium, but are located in a loft type architecture such as an upper townhouse arrangement or old warehouse that has been turned into a condo community.
Luxury buildings - Some of the more attractive and classy condo opportunities are found in more affluent neighborhoods and inside luxury buildings or complexes. The real estate that surrounds luxury condo buildings tends to be backed by a lot of funding since they focus on creating an extremely classy environment for their tenants and renters. These condos will cost more to purchase since you are investing, in essence, in the entire luxury project, while you will also be able to charge more on a consistent basis as long as you keep the condo units looking princely and beautiful.
Victorian - Victorian units are more traditional in their style and looks and are based on the old-fashioned style of the American and English 19th-century homes. The value of Victorian type condos is largely in the fact that they are often built within actual Victorian houses so the tenants feel that they are living in a house rather than an apartment type unit. This may create an added appeal for guests who may be attracted to this style that offers the best of both worlds without the large house payment. Even though they only occupy a small space with the house, they may like the idea of living in a traditional house. Not all units are within old houses, however. Some units just have a "Victorian look" that captures the old traditional style while housing many tenants at once. But the building is still similar to a condominium or apartment complex.
Co-op units - A co-op arrangement is different from the other types. It involves shareholders who only rent, not own the units. If you are a co-op owner in this type of condo, you would have a situation that is very similar to a corporation or business arrangement whereby the units are owned by individuals but the entire building is owned by the co-op or corporation. In other words, the co-op association owns the building. If you are looking to rent such a unit, you may be able to find one in Boston for a reasonable price since it is invested in by a variety of shareholders which make the property fairly stable in the real estate market.
Why rent a condo?
There are a variety of different types of rental units someone can rent if they are looking for rental choices in the Boston area. Purchasing a home takes more personal investment on your part due to property tax laws, expenses that you may need to invest to fix up the problems within the house, and upkeep of the grounds and the home itself. Renting an average apartment involves no financial commitment on your part as a tenant or renter and you can leave anytime you want. When you rent a condo, you are investing more of your own money since you usually will buy the unit and then turn around and rent it to someone else when you are not using it.
Condo purchasing is an attractive way to break into the real estate market if you want to find a way to have a place to live that is classy without paying the large home costs or having to make large house deposits or secure a loan.
While the terms on the purchase of a condo do vary depending on a number of factors, you can usually negotiate a payment plan that will work with your budget and offer a way to get some of your money back when you rent the units during the times you have designated.
Tips on Finding the Best Condo in Boston
If you live in Boston or the surrounding area, you may wonder how you can go about finding the best opportunity for condo purchasing. Here are a few tips to get you the best deal, based on expert advice from people in the Boston real estate market:
Research the Boston real estate market - The more you know about the Boston real estate market, the better you will be qualified to make a smart decision on purchasing a condo. Study the Boston real estate market by starting with a search of Boston city properties and take notes on the type of condo you are interested in. Then check prices of various types of units and consider your budget restrictions.
Talk to real estate professionals - Once you have done some of your own research on Boston properties and condominiums, contact a Boston real estate agency to learn more about specific properties. They know the area better than anyone since they deal with real estate transactions in the Greater Boston area on a daily basis. They will be the most equipped to tell you what your options are and how much you are likely going to have to pay in investment expenses if you decide that purchasing a condo is for you.
Compare various types of units to determine the best arrangement - Go back over the types of units we've discussed in this article to get an idea of the advantages of the various styles. Then consider what you plan to use the condo for and whether you will live in it yourself or rent it out. Victorian style condos, for example, are more appealing to people who want to invest in a traditional-looking building that tends to house several units. In some cases, it may involve purchasing a house if you intend to use this as your condo building that you'll rent out to others. If you are only purchasing an individual unit, you won't have to worry about the costs of purchasing the building. That responsibility falls to the building owner and it is a larger investment than purchasing a single unit.
Find out how the local co-op operates with condo arrangements - Purchasing a co-op condo unit may be easier since these units are often owned by a joint group of shareholders with equal money invested. It's still important, though, to know what the rules are and whether you will be responsible for the upkeep of the building or just your own individual unit, as well as other regulations.
Consider how much you will use the condo yourself or if you just want to rent it out for passive income - The decision to purchase a condo is a big one but it may pay off in spades if you choose wisely. One important consideration is to consider whether you intend to live in the unit yourself or just rent it out to tenants. If you have no plans to live in it yourself, you don't have to worry about whether or not it meets with your own personal preferences. Instead, you would just consider it to be a smart business investment. Study the market and see what types of condos people want and spend your money on the add-ons and fix-ups that people are willing to pay top dollar for. That way, your investment will pay off.
Rules for Property Owners
One common trend in highly populated areas such as Boston is to convert old buildings into condos that you can sell or rent out. This is a good ambition and can provide you with an income for years to come. However, you should first get to know the zoning laws in your immediate area and also be aware of eviction procedures when renovating your building with people already in it.
You must give the elderly or disabled or low-income tenants a five-year notice before the conversion. Because housing is sometimes hard to find for these individuals, it may pose an extra hardship for them to find alternative housing. Giving them advanced warning will give them every chance to be looking for another location before you start the conversion or renovation.
Notices for other tenants only require a one-year notice.
You are required to offer some level of assistance in helping former tenants find a new location.
Under the same Boston ordinance, tenants are allowed to have first bids on buying one of the condo units before you sell it to someone else.
Property owners cannot raise the rent in the current building more than 10% in the interim while waiting to convert it to a condo unit.
Tenants who leave voluntarily during the notice period may be eligible for benefits from the building or property owner. These amounts are quite generous (from $6,00-10,000) per family who qualifies. So make sure and get familiar with the Boston ordinance if you are a property owner who plans to convert your building into a condo in the future.
Location Considerations
When looking for any type of rental, it is always important to consider the location. Most condominiums are located in nice areas of Boston that feature amenities and close proximity to restaurants, schools, and shopping. In fact, some tenants decide to walk to work from their condo if it is within walking distance.
Some condos are located in more remote areas that are not as close to the downtown area. So that is why you will want to do a thorough search of the condos you are considering and find out the exact location before deciding where you want to hang your hat.
Upkeep is Essential with Condo Rentals
If you are looking at purchasing a condo unit, it is important to know that keeping up the unit is essential to keeping your tenants happy over the long term. Condos have a certain higher level of expectations from tenants than traditional lofts or apartments do, so make sure and perform routine and regular maintenance on the units.
Doing Due Diligence
You also need to do your due diligence on vetting renters when you rent out to people. While you want to give everyone an equal opportunity, letting the wrong renter into your condo unit that causes damage to your property can damage your unit and cause it to be unrentable while you are getting it repaired. Additionally, you will be out more money from the repairs. Many landlords attempt to require the renter to pay in such circumstances but ultimately courts usually rule that the landlord had the most responsibility regarding the upkeep of their property.
Find the Perfect Condo to Rent
We have tried to cater this article to those who are considering buying a condo unit, as well as those who want to rent. We know that both real estate investors, property owners, and people in search of a unit to rent all read our blog. Therefore, we strive to provide the most current and relevant information that we can offer.
The paragraph below is dedicated to only people who want to rent a condo so that they can perhaps use some of these ideas to find the best deal for their money when searching for Boston rental properties. Following this, we end with a list of things you can do to ensure that you know your obligations and your rights so that you won't find yourself in a sticky rental situation that costs you money.
Tips for Finding a Condo to Rent
When looking for a rental condo in Boston, you will want to think about where you need to be. Even if you find a great condo rental but it is across town from the location that you need to locate in, it is not worth the money. Instead, focus on "location, location, location" first and the rest will fall into place. Our site can help with this and you can also contact a Boston real estate firm to help you further this along.
After location, you should think of cost. If you only plan to rent, how much will you pay in rentals each month. No matter what your lot in life or your current income status, it helps to remember the words of T. Harv Ecker, famous entrepreneur and writer regarding the allocation of your finances. Use this rule when planning to rent a condo in Boston or any other type of expenses that you need to include in your budget.
Ecker outlined the following percentages that you should try to abide by when budgeting money for necessities, education, financial growth, and other things. Study this list and try to apply it before deciding on a rental.
Budget Allocation Table
Necessities (bills, utilities, monthly expenses) 55% of your monthly income
Long-term savings - 10% of your monthly income
Education account - 10% of your monthly income
Investments - 10% of your monthly income
Fun Account - 10% of your monthly income
Give Account -5% of your monthly income
This is not to say that it is the only way to manage finances but it's important to know what your budget is and how you will allocate your income and expenses if you plan to purchase or rent a condo.
Any type of home purchase or rental is a big commitment. Whether you are looking to rent a condo or purchase real estate in the Boston area, you can count on us to help guide you in the right direction. We offer sound advice from real estate experts in the Greater Boston area, as well as common sense tips and tricks as to how to get our money's worth when hunting for condo rentals in Boston.
Click Here
to Search
sales
Click Here
to Search
rentals