The Mark
navigate_before navigate_next
Address
99 Sumner Street
Neighborhood
East Boston
---
Description
If you're looking to buy a luxury condo in East Boston, be sure to take a closer look at The Mark. Also known as The Mark at DeNormandie Wharf, this six-story mid-rise development was built in 2021 and houses 107 upscale condo residences. Condos in this building span many sizes, layouts and floorplans, ranging from cozy studios to sprawling three-bedroom homes with dens. Situated at 99 Sumner Street in East Boston, this development was built on the former site of the Hodge Boiler Works company. Today, it represents the best in luxury condo new construction on the East Boston waterfront.
Address: 99 Sumner Street Boston, MA 02128
Neighborhood: East Boston waterfront
Year Built: 2021
Six-story building, 107 condos
Building Amenities
With its proximity to the Maverick Square Blue Line T stop, this condo mid-rise building is convenient for busy professionals. On-site parking is available for purchase in the underground garage, which features 80 parking spaces. The premises also include 147 bike storage spaces, making this an excellent option for cycling commuters too. The building boasts 24/7 concierge services, a state-of-the-art fitness center with Peloton bikes and flex studio space, a golf simulator and a community terrace. Its waterfront location includes access to a boat/slip marina and water taxis to the North End and Seaport.
New construction
Underground parking garage with 80 spaces and Envoy car share service
5,045-square-foot private, elevated terrace with BBQ grills and upscale seating
147 bike storage spaces
WiFi bar
Commercial and retail space
Billiards lounge
Fireplace lounge
Library and card room
Movie screening room
Pet spa
6,500 square feet of shared workspace
Condo Features
These East Boston mid-rise development condos include studios; one-bedroom condos; one-bedroom plus den condos; two-bedroom condos; two-bedroom plus den condos; three-bedroom condos and three-bedroom plus den condos. Penthouse units are also available. Units in this development range in size from around 440 square feet to approximately 1,230 square feet. All condos have open-concept floorplans, oversized windows, in-unit washers and dryers, premium finishes, clean lines and two different kitchen design options.
Oversized windows
In-unit Whirlpool washer and dryer
Open-concept floorplans
Premium flooring
Kitchen
Two designs: The Onyx and the Hinckley
Dark/solid-tone cabinetry or two-tone cabinetry
Black matte stainless steel appliances or silver appliances – both by Bosch
Metropolitan cabinetry
Silestone quartz countertops
Bathrooms
Oversize mirrors
Custom finishes
Upscale cabinetry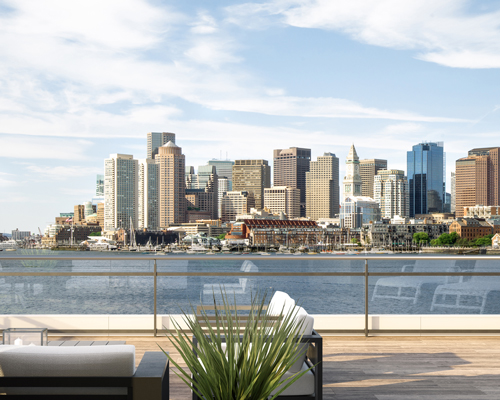 Condo Options
The 107 luxury condos in this mid-rise development include a variety of sizes, configurations and floorplans. Two different kitchen designs are available, adding to the flexibility of these upscale residences. Studio units in this development sell for around $400,000. One-bedroom condos sell for $550,000, and one-bedroom plus den condos sell for between $700,000 and $800,000. Two-bedroom residences sell for $900,000, and three-bedroom units, including penthouses, start at $1 million.
Benefits of Buying a Luxury Condo at This East Boston Mid-Rise
There's a lot to love about this new-construction luxury condo mid-rise on the East Boston waterfront. Water taxis, located nearby, ferry passengers to and from the Seaport and the North End. The Maverick Square Blue Line MTBA stop is within easy walking distance. Residents with vehicles will appreciate the on-site underground garage, which has spaces for sale. The building offers a generous array of amenities, including 24/7 concierge services, a screening room, a fitness center with studio space and Peloton bikes and a pet spa. The private, elevated courtyard boasts barbecue grills and upscale seating, making it a great place to relax and socialize. Condos include contemporary designs, clean lines, in-unit washers and dryers and many other perks. For more information, don't hesitate to get in touch with Boston City Properties today.
Fill in the information above to view up-to-the-minute availability, including photos, floorplans, virtual tour, and more!
Our website provides FREE access to the largest real estate database in the Boston area! This database includes not only our listings, but literally ALL of the largest real estate brokerages in the Boston area post listings to the system as well!
Click Here
to Search
sales
Click Here
to Search
rentals