Identify Somerville Development Opportunities with Boston City Properties
If you're looking for development opportunities in Somerville, MA, you're in good company. For many reasons, this Middlesex County city has emerged as a prime location for new housing and commercial developments over the last handful of years. In particular, it's rapidly becoming another hotbed of life science activity, as prime clusters in Cambridge and the Seaport reach saturation. An influx of educated, well-paid professionals has sent rents soaring, providing exciting and lucrative opportunities for investors.
Click Here to Search
commercial properties
As exciting as things are in Somerville, finding the best opportunities for developing in-demand real estate like lab and R&D space, luxury apartments and condos and office buildings is easier said than done. The city has been on the radar of major developers and investors for some time, so competition is fierce. Luckily, you don't have to have a significant presence in those spheres to tap into Somerville's exciting potential. By connecting with Boston City Properties, you can access on- and off-market listings, connect with Somerville agents and brokers and tap into a wealth of valuable resources and information that are sure to help enormously.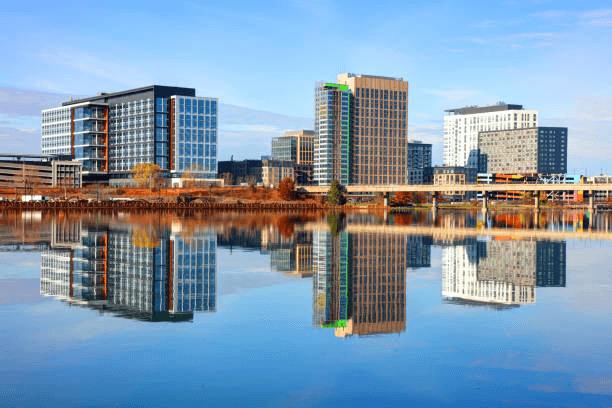 Why Somerville?
Somerville is often referred to as the "best-run city in Massachusetts," largely thanks to its ongoing commitment to commercial and residential development and redevelopment. Over the past 10 years or so, the city has issued permits for more than 8 million square feet of construction, and the floodgates are apt to remain open for the foreseeable future. It boasts proximity to Charlestown and Cambridge and offers exceptional public transportation connectivity. One of the most densely populated cities in the region, it's also home to Tufts University and therefore has a rapidly increasing population of well-compensated tech and life science workers.
Commercial Development Opportunities
Based on the success of projects like Boynton Yards, a major life science campus, and new lab and R&D developments at Union Square, among others, Somerville has positioned itself as the next significant life science cluster in Greater Boston. Biotech firms and startups pushed out of contention for space in competitive markets in Kendall Square and the Seaport are increasingly turning to Somerville for what they need. Therefore, by acquiring lots and parcels for development and redevelopment, you stand to meet and exceed even your most ambitious goals.
The life science boom in Somerville has had a fantastic ripple effect, prompting the development of new mixed-use developments, retail developments and office buildings. Major commercial developments at places like Assembly Row have put the city on the map in a big way. Boston City Properties understands the Somerville commercial real estate market well and can assist you in identifying and procuring properties that suit your requirements.
Residential Development Opportunities
Somerville has seen its residential real estate market explode in recent years as home to a major university and an ever-growing number of life science and biotech firms and startups. Every year, well-paid professionals descend upon the city searching for luxury condos and apartments. Families also clamor for new homes and other housing options. The median sale price for residential properties in Somerville is nearly twice that of the state, and the median rent for a two-bedroom apartment exceeds $3,000 per month. Appreciation rates are strong, and rent prices increase steadily – and these and other characteristics make Somerville a terrific place for residential development opportunities.
How Boston City Properties Can Help
At BCP, we know how overwhelming it can be to seek out development opportunities in an in-demand, rapidly growing market like Somerville's. We can assist you in several ways, including:
On- and Off-Market Listings – After a quick signup process, you'll get instant, free access to BCP's massive online database of searchable Greater Boston real estate listings. Our powerful search tool makes it easy to zero in on prime opportunities across Somerville. What's more, we have access to off-market listings – properties that never officially hit the market but are spread via word-of-mouth.
Insider Knowledge and Local Expertise – As a Boston commercial real estate leader, we know the area and its submarkets like the back of our hands. Our team has an in-depth understanding of the intricacies of Somerville real estate, giving you valuable insider knowledge that gives you a crucial edge over the competition. More importantly, our local expertise allows you to make more strategic and effective investment decisions.
Talented Brokers and Agents – When it comes to making the most of Somerville development opportunities, it pays to have the best team at your disposal. By connecting with BCP, you get that and much more. We have connections with Somerville real estate brokers and agents who know the area, its properties and its real estate markets well. They understand the finer points of developing new properties in the city, including crucial zoning information, and their insights are sure to be invaluable during your search.
Locate Opportunities for Developing Multifamily Housing, Offices, Lab Space and More
Regardless of the niche or industry you are focused on, Boston City Properties can help you pinpoint lots and parcels for sale in Somerville that align perfectly with your goals and needs. Our team has experience in assisting investors and developers with everything from mixed-use developments to lab conversions to multifamily housing. They can guide you through the process from start to finish. Wherever your development interests lie, you can rest assured of finding the best and most promising opportunities in Somerville with our help.
Contact BCP Today for Somerville Development Opportunities
Somerville has been a hotbed of new commercial and residential real estate development for some time, and that trend will only intensify in the years ahead. Therefore, there's never been a better time to find and procure prime development opportunities in this vibrant, constantly evolving city. Don't sell yourself short when seeking parcels for development or redevelopment in Somerville. Connect with Boston City Properties for access to on- and off-market listings, referrals to talented brokers and agents and much more. We're ready when you are, so contact us today for more information.