Find Development Opportunities in Boston's Seaport District with Boston City Properties
You don't have to be a real estate expert to know that business is booming in the world of Seaport District real estate. In the wake of the Big Dig, this South Boston neighborhood – officially known as the South Boston Waterfront but more commonly referred to as the Seaport District – has emerged as the fastest-growing area in the city. Spurred primarily by the life science boom, the Seaport has seen massive amounts of development over the last several years. If you're interested in development opportunities in this neighborhood, you're far from alone.
Click Here to Search
commercial properties
Finding lots and parcels for sale in the Seaport suitable for various development activities isn't easy. Whether you're looking to develop commercial properties like labs and offices or residential properties like luxury condos or apartments, you're going to need all the help you can get. Boston City Properties is here to provide it in a variety of ways. We have a vast online database of continually updated Boston real estate listings, making it easy to check availability for properties that meet your development requirements quickly. We also have off-market listings that can give you a crucial edge over the competition. On top of all that, we have skilled agents and brokers around the Seaport whose insider knowledge is sure to make a huge difference.
Why The Seaport?
No explanation is really necessary for why someone would seek development opportunities in the Seaport. As noted above, the neighborhood has come into its own in just the last handful of years. As of the third quarter of 2021, the office vacancy rate was 10.4%, and the lab vacancy rate was just 0.2%. Demand for offices, lab space and R&D space is at a fever pitch and should remain so for the foreseeable future. Thanks to all the new jobs flooding the neighborhood, demand for housing is also sky-high, presenting lucrative opportunities for savvy investors and developers. With help from Boston City Properties, you can capitalize on the best opportunities to easily meet and exceed your goals.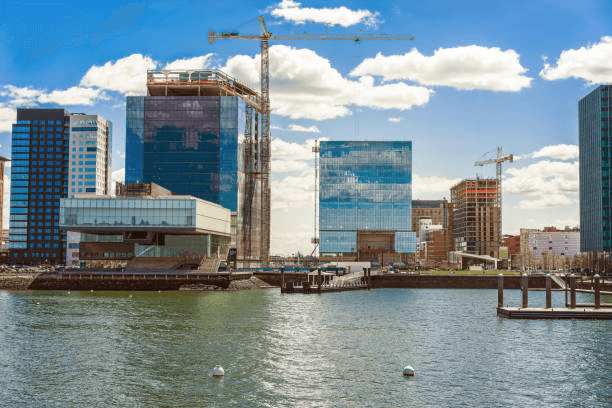 Commercial Development Opportunities
It's shocking to think that the Seaport was regarded as an industrial wasteland of sorts not too long ago. Cut off from the rest of the city by the elevated Central Artery, it wasn't on developers' radars for most of its history. Things have changed, though, and opportunities abound throughout the area. Of the 2.7 million square feet of lab space under construction or conversion in the third quarter of 2021, 47% was pre-leased. Lab asking rents surpassing $103 per square foot are the norm, and office asking rents average above $60 per square foot.
The Seaport is always abuzz with business activity as home to the Boston Convention and Exhibition Center. Public transportation is readily available via the MBTA Silver Line rapid bus system out of South Station. The neighborhood is within walking distance of ferry services out of Rowes Wharf, Longs Wharf and North Station. As the population grows, demand for dining, shopping, entertainment and other services has skyrocketed, delivering more development opportunities for interested parties.
Residential Development Opportunities
Massport has been seeking the development of a mix of unit affordability levels, bringing even more residential development opportunities to the table for investors. Not too long ago, very few people called the Seaport District home. Today, it's one of the hottest addresses in the city – especially for the many new workers with offices in the area. Most of the housing stock consists of luxury apartments and condos. EchelonSeaport, for example, offers upscale luxury condo living along with a full city block of retail space known as The Superette. The median home sold price in the Seaport exceeds $1.5 million, and rentals go for anywhere from $2,400 to more than $10,000 per month.
How Boston City Properties Can Help
If you're looking for development opportunities in Boston's Seaport District, here's how Boston City Properties can help:
On- and Off-Market Listings – When you sign up with us, you'll get immediate, free, unlimited access to our searchable commercial and residential real estate listings. Our team also has off-market listings for properties for sale that never hit the market. These can give you a crucial edge over the competition.
Insider Knowledge and Local Expertise – In a dynamic, fast-growing and rapidly evolving market like the Seaport's, knowledge is everything. When you connect with BCP, you gain access to insider knowledge that can help you make more informed and strategic decisions. Our team understands the intricacies of developing new properties in this neighborhood, including zoning ordinances and other regulations. This information can go a long way toward helping you achieve your goals.
Talented Brokers and Agents – Boston City Properties is pleased to have a network of talented and experienced real estate brokers and agents across the Seaport District. We can connect you with one whenever you're ready to identify and procure the perfect property for your development needs.
Find Seaport Development Opportunities Across All Industries and Niches
Development opportunities abound across all major sectors in the Seaport, and our team knows how to help you capitalize on them. Whether you're interested in developing new retail space, a mixed-use development, lab conversions, R&D space, office space, luxury condos, luxury apartments or any other type of real estate imaginable, we have you covered.
Call Today for Help Finding Development Opportunities in the Seaport District
Boston's Seaport District is in the midst of rapid growth that represents lucrative opportunities for savvy investors. However, competition is cutthroat for the best parcels and lots. With that in mind, it pays to have the right assistance and resources at your disposal. The easiest way to achieve that is by connecting with the experts at Boston City Properties. We'll give you access to our searchable online listings, giving you a head start on your search. Our team can bring you off-market listings to enhance your ability to locate the perfect option. Our network of local agents and brokers is ready to assist you with your Seaport development goals and needs, so contact us today for more information.