Find Development Opportunities in Quincy, MA with Boston City Properties
If you're looking for development opportunities in the City of Presidents, there's never been a better time. As prime real estate is snapped up and redeveloped across downtown Boston, Cambridge and surrounding areas, development activity in nearby Quincy has been steadily increasing. Still, competition for the best lots with the greatest potential is fierce, so it pays to have the right assistance. To that end, you can't go wrong by connecting with Boston City Properties.
Click Here to Search
commercial properties
A leader in Boston commercial real estate, Boston City Properties is uniquely qualified to assist developers, investors and other professionals in identifying and procuring developable land in Quincy. While most of the land in this densely populated city of more than 100,000 has been developed previously, opportunities for redevelopment abound. With our help, you can zero in on parcels for sale that suit your specific needs, ensuring optimal returns on your investment.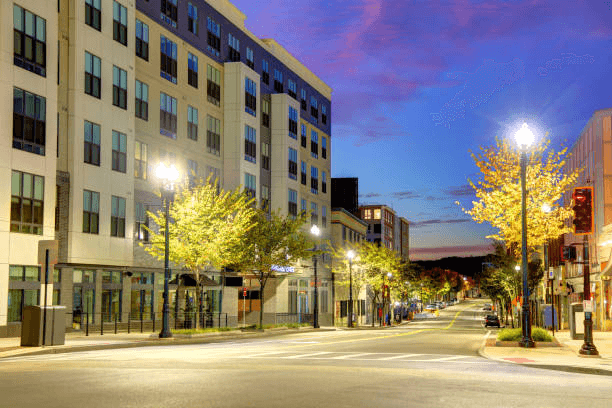 Reasons to Seek Quincy Development Opportunities
Now that Quincy has more than 100,000 residents, it's within reach of significant amounts of state and federal funding for various revitalization efforts. Over the last handful of years, in fact, more than 700 new condos and apartments have gone up across the city, demonstrating that demand is there and only getting stronger. Thanks to its burgeoning retail, entertainment, housing, and dining options, the city has positioned itself as an affordable alternative to Boston, even for young professionals. Developers and investors who acquire prime lots for development and redevelopment now stand to do well, whether they're dealing with residential or commercial projects.
Commercial Development Opportunities
As a bustling Gateway City, Quincy features many robust commercial corridors and districts rife with development opportunities. In recent years, four new stops and trains on the MBTA Red Line have come to the city, making it more connected and transit-oriented than ever. The revitalization of Quincy Center, a sprawling mixed-use development spanning more than 50 acres, has breathed new life into the commercial real estate market, signaling exciting options for savvy investors and developers.
Boston City Properties can help you identify prime commercial development opportunities in hot Quincy retail areas like Marina Bay, North Quincy and Wollaston. Thanks to Quincy's proximity to Boston, where commercial lease rates have been skyrocketing for some time, the city offers a strong alternative for developers seeking lucrative development opportunities. Our team knows the local commercial real estate submarket well and can assist you in identifying the best options.
Residential Development Opportunities
With its proximity to Boston and ready access to public transportation, Quincy is a terrific market for investors and others seeking residential development opportunities. As noted previously, hundreds of new condos and apartments have gone up in recent years, and demand is still strong for more. Although median rent prices are more affordable here, averaging between $2,100 and $2,400 per month, they are still robust and continue to increase steadily. Furthermore, the median sale price for residential properties is significantly higher than the state average, and appreciation rates remain strong from year to year.
Whether you're looking to develop multifamily housing, duplexes, triplexes, townhouses or other types of residential properties in Quincy, Boston City Properties is here to help. We have skilled agents and brokers across the city who can guide you through finding developable lots for sale, researching proper zoning and other requirements and setting the stage for long-term success.
How Boston City Properties Can Help
With every passing day, lots and parcels with exceptional development potential hit the market in Quincy. Boston City Properties can help you tap into them in the following ways:
Experienced Brokers and Agents – BCP has skilled and experienced real estate brokers and agents across Quincy who can help you identify prime development opportunities throughout the city. Thanks to their understanding of the ins and outs of local real estate submarkets, these professionals can arm you with the insights you need to make effective, strategic decisions.
On- and Off-Market Listings – You can sign up in seconds for free, immediate access to our vast online database of searchable Greater Boston real estate listings. By restricting your search to Quincy, you can quickly check current availability for properties that meet your requirements. Our team also has access to listings that never hit the market. These off-market listings often present the best development opportunities in Quincy, and having access to them will make your search easier and more effective.
Insider Knowledge and Local Expertise – Quincy's real estate submarkets are incredibly fast-paced and competitive. Boston City Properties understands the intricacies of these markets, including major players and development requirements across the city. By tapping into our insider knowledge, you can make more informed and effective investment decisions, increasing the odds of long-term success in all of your development ventures.
Identify Quincy Development Opportunities Across Various Industries
Thanks to Quincy's diverse economy, proximity to Boston and sheer size, opportunities abound for developers interested in sectors ranging from hospitality to office and lab space. Whether you're interested in multifamily housing, mixed-use developments, office buildings or other property types, the team at BCP can assist you in pinpointing parcels for sale that give you the best odds of success. Our team includes experts with knowledge of all major niches and industries, so you can get the guidance you need regardless of the particulars.
Call Today for the Best Development Opportunities in Quincy
Right this second, developers and investors are snapping up prime parcels across Quincy, trying to cash in on the city's burgeoning residential and commercial real estate submarkets. With help from Boston City Properties, there's no reason you can't get in on the action in this eclectic Norfolk County city. From lab conversions to office space to multifamily housing, development opportunities are abundant across Quincy. Our team's knowledge of the city and its real estate markets allows us to bring you the best options regardless of your specific requirements. We're ready to help, so call us today to access our listings, obtain referrals to local agents and more.