August 12, 2023
New Movie Studio Campus Proposed for 123 Acres in Braintree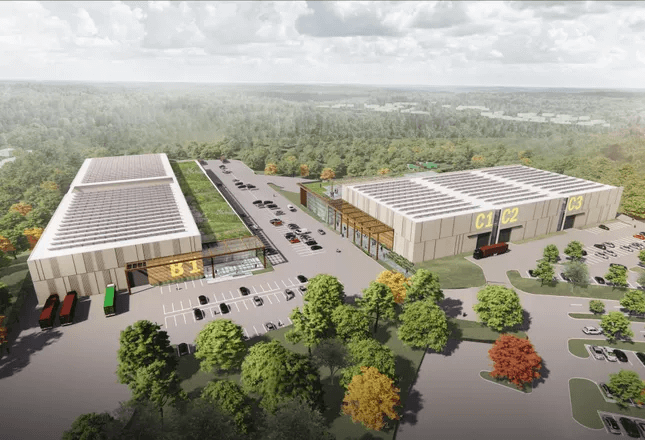 Rendering Courtesy of Gensler
Since starting a tax incentive program in 2006, Massachusetts has been actively working to bring movie and TV production to the state. It appears that a Boston-based developer is taking advantage of the perks. RISE, a development and construction management firm, recently acquired the development rights for Braintree's Banner Park Campus and plans to transform it into a movie production campus.
The site, which includes a 20,000 SF office building that will be demolished, was acquired by RISE from Onshore Properties. According to RISE, the proposed film studio campus will include soundstages, offices, and pre- and post-production facilities. The site already has a history of movie production, including productions by Apple Studios and Netflix, which were filmed there over the last several years.
According to details from the plan, the developer will bring a variety of community benefit payments to Braintree and the town of Weymouth. These payments will include funds for infrastructure and traffic improvements around the immediate area. RISE is also partnering with the New England Wildlife Center to develop a new trail system connecting Braintree, Weymouth, and Holbrook. A large community dog park is also planned for the campus. Therefore, the new movie studio project will enhance walkability and infrastructure around the area.
The former site of the Massachusetts Lottery, the 123-acre site is located near Route 3 and the Weymouth town line in Braintree, only about 20 miles away from Logan International Airport – an important consideration for bringing production staff on site as needed.
The proposed film campus will create approximately 800 new jobs and is expected to generate $8 million in tax revenue and $1.5 million in permit fees to Braintree over the next decade.
This is only the latest in a series of new developments in Boston's burgeoning film industry. In 2022, Red Sky Studios, a Boston-based movie production company, obtained approval to develop a movie studio with at least two soundstages within the city limits. In 2022, Marina Cappi, owner of Northeast Studios in Devens, expanded the studios into Canton.
Massachusetts has been actively working to entice movie and TV production to the state for several years, spending millions on the effort. The state tax incentive that started in 2006 was made permanent in 2021, providing more encouragement to studios to consider the Boston area. According to the Massachusetts Film Office, five movie and TV productions recently wrapped filming, and at least two more are currently being filmed.
According to the Department of Revenue, Massachusetts' tax incentive for movie and TV production resulted in $503.2 million in net new spending from 2006 to 2016.
With the addition of the proposed film production campus, Braintree will further cement itself as the epicenter of movie and TV production in the Bay State. Over the years, many well-known movies and TV shows have been filmed on location in the area, including Paul Blart: Mall Cop, a 2009 film starring Kevin James, and Unfinished Business, a 2015 movie starring Vince Vaughn.
The new campus will offer easy access to I-93 and close proximity to Downtown Boston, where many local filming locations are found. RISE, the developer behind the project, is working with Gensler on the masterplan for the site. Gensler, a national leader in design and architecture, will help to develop the facilities at 60 Columbian Street.
Once the new movie production campus is complete, Boston will have even more to offer to TV and movie production companies across the country. These efforts should bring even more revenue into the area, which already enjoys a robust economy thanks to life science, education, medical, and other thriving local industries.