Financial District Real Estate Listings
If you've started looking for real estate in Boston's Financial District, you are spoiled for choices. Whether you're a property investor seeking out prime rental properties or a home buyer looking for a lovely loft-style condo or other abode, the team at Boston City Properties is at your service. We maintain a massive database of listings spanning all Boston neighborhoods, towns and cities, including the Financial District. We also employ skilled real estate professionals right in the neighborhood, arming you with the guidance you need to make accurate, effective real estate decisions.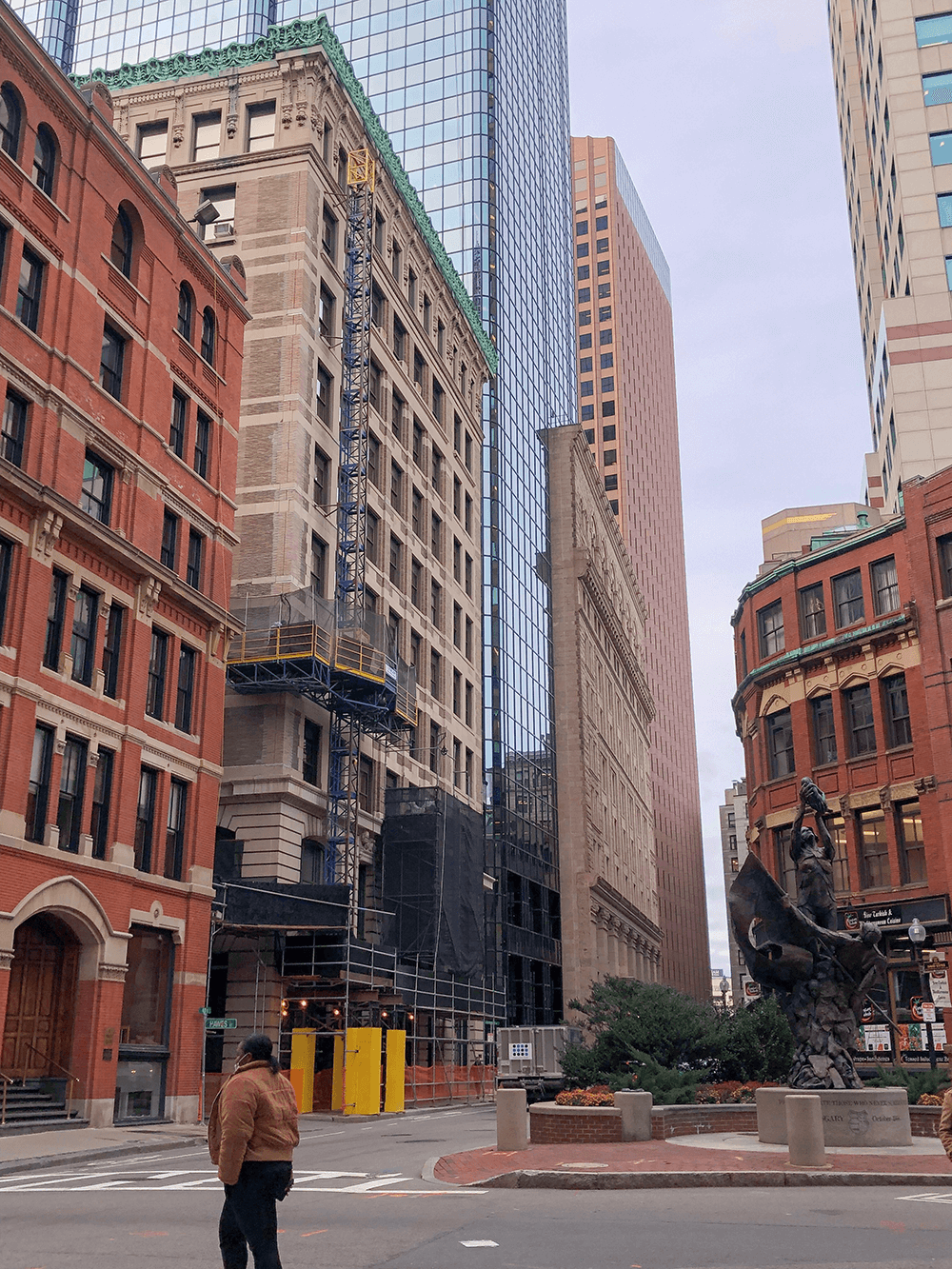 Browse Financial District Real Estate Listings
Anyone who understands Boston's real estate and rental markets can attest that the trick to finding what you need is having reliable access to accurate, timely information. Boston City Properties' real estate listings fill the bill nicely. When you sign up for free access, you can start searching and browsing our listings to find apartments, condos, lofts, homes, commercial properties and more in this vibrant neighborhood. Our listings are loaded with information and often include virtual tours, tons of photos and more.
Get Skilled Guidance from Real Estate Experts in the Financial District
Nothing is more frustrating than working with a real estate agent who knows little or nothing about the neighborhoods that interest you. You never have to worry about that with Boston City Properties because we have Financial District agents who know the neighborhood and its real estate market inside and out. With friendly, experienced advice from these professionals, your search will unfold a lot more smoothly and much more easily.
Find Prime Real Estate with Boston City Properties
If it feels like you're running in circles while looking for properties to buy or rent in the Financial District, it's time to arm yourself with the best secret weapon of all: Boston City Properties. Get up to speed on the available offerings in this neighborhood by signing up for free access to our continually updated listings now, or contact us to be connected with experienced, knowledgeable real estate experts right away.
How would you like to live in the downtown Boston area in the heart of where all of the big financial decisions are made? You can do just that when you choose to locate in the Financial District of Boston. Close to other areas such as the seaport and Waterfront areas, you'll find this a perfect place if you are a banker or financial manager or just want to live close to the big banks.
Take a look at why some people insist on living in the Boston Financial District. There's more than money that happens here!
Financial District
The Financial District in Boston is at the heart of the Boston business center. As you would expect from its name, it's frequented by many banks and high-rise offices as well as condominiums, a post office, and many other financial services buildings.
Normal B. Leventhal Park is a tourist attraction, and it brings people around each year to see and experience its amenities, including both tourists and residents.
Some of the other notable real estate properties you will notice in the Financial District include a chain of eateries and restaurants, high-end coffee shops, and Irish pubs and lounges. Check out the sculptured fountain and garden trellises that line the area and make it resemble parts of France.
Location
The location of the Financial District of Boston is in Downtown Boston near Chinatown and the Government Center. So this area is not in a suburban area like many of the other districts are. For people who work and want to live in the downtown Boston area, this is a great location to consider.
The boundaries of the Financial District include Atlantic Avenue, Devonshire Street, and State Street. The area includes several zip codes including many of the major areas that are served by the local Boston post office. If you choose to live in this area, you will find that you are in the center of most everything that you need to be near and you will have the ability to find what you need quickly when you need to be somewhere quickly.
Types of Real Estate in the Financial District
You'll find many different types of real estate in the Financial District of Boston. These include the Post Office Square, the International Place complexes, and the Custom House Tower. The Custom House Tower is one location that has been turned into a condominium. This area borders Faneuil Hall and the Quincy Market.
Condos for Rent
If you want to rent a condo in the Financial District of Boston, you can look at the following condos when you do your search.
The Lofts at Atlantic Wharf
If you have always wanted to live in a Boston loft, but you want the feel of a condo, this location might be perfect for you. It is located on Atlantic Avenue in the Financial District of Boston and features upstairs loft units that vary in price from $3,175 per month to around $5,100 per month. The cost of these loft condos will vary depending on the amount of floor space and the size that you choose.
Highlights of Atlantic Wharf
This location has all of the amenities that you would want and more in the Boston Financial District. You'll be close to the Waterfront District as well as the Financial District. It runs from the North End to the South Station, and you'll see the historic Boston Harbor and Rose Kennedy Greenway. These are two well-known Bostonian landmarks that people enjoy visiting annually.
If you move to this area, you'll also be close to several five-star hotels and the marquee office headquarters. It's also near the Faneuil Hall Marketplace and the Waterfront. Tenants of this condo will find that they are in the center of many different aspects of Boston culture as well as several waterfront residences and top dining and cultural attractions.
Access to Public Transportation
If you are someone who needs to have quick and easy access to public transportation in the Boston area, this is a great place to be. It's close to public transportation such as the city bus system, the major highways, and the Boston Airport.
Houses in Financial District Boston
If you want to purchase or rent a house in the Financial District of Boston, take a look at some of these properties in or near the Financial District.
Folio Luxury Buildings
If you are looking for a home in Boston's downtown premier luxury buildings, you'll find this location fits the bill! It features a beautiful stainless steel and granite kitchen with all of the extras including cherry cabinets and a large breakfast bar. The kitchen area opens up directly to the living room area, so it offers an excellent opportunity to entertain guest. There is a washer and dryer unit and other extras like floor to ceiling windows that complete the look.
This is luxury living located in the heart of Boston's Financial District, and it's also close to the Waterfront and Seaport areas.
The location of this beautiful one-bedroom luxury home is at 80 Broad St. #706 in Boston. So search for properties in the Boston Financial District or Waterfront area to start your search for more details on who handles this property.
Notable Buildings in Financial District
Several buildings are of interest when it comes to real estate in the Financial District area of Downtown Boston. Some of the most notable ones are mentioned below:
Dewey Square
One Financial Center
Federal Reserve of Boston
First National Bank Building
John Hancock Tower
The Prudential Center
Most Recent Real Estate Development
The Financial District has seen lots of recent real estate development in recent years including the Russian Wharf which was recently completed along the Fort Channel. The height is almost 400 feet in height, and it includes 32 stories. Construction of the South Station Tower is now in the development plans in this area and it will include 41 stories and will rise to 621 feet once it is completed.
Other areas such as the Aquarium Garage Development area plan to add on to Boston's already successful Financial District in the coming months and years so Bostonians will have more to look forward to shortly.
The Boston Financial District is a busy, thriving area and echoes the growth and progress that the city of Boston itself is so well known for.
If you want to locate in Boston, here are some of the reasons you may find the Boston Financial District the perfect place for you:
Located in the heart of Boston's financial area such as banks and financial services
Excellent location for someone going into the finance industry who wants to live in proximity to their work
Close to Waterfront District and parks
Offers plenty of opportunities to invest in real estate as well as to purchase a property or live in a nice location near the heart of Boston
Why Financial District?
Look through the points we lined out above and ask yourself if this location sounds right for you. If you are someone who plans to make a career in industry or finance in the Boston area, the Financial District might be a good choice for you.
Many people move to this area because they have chosen to live in the heart of the city rather than in one of the many other suburbs that surround the area. When asking yourself if it is the best location for you, consider whether you want the quiet of a suburban area, and you don't mind taking the bus or driving a few miles to work. If you'd instead not drive or take the transit or bus, you may want to live and work in the Downtown area, and in this case, the Financial District may be the best location for you.
Finding the Right Location
Finding the right location for your home as well as your business starts with some time spent in research beforehand. You can do your research first, then come back to our site at Bostoncityproperties.com and you'll see how easy it is to find what you want.
We have built an internal real-estate based search engine that allows you to put in your search terms, filter your results to include specific areas, price points, and specifics, and let the search engine do the rest.
You should feel free to compare different prices, locations, and amenities that are common the areas you are considering. This will allow you to make sure you are getting the most for your money when you decide on a house or apartment.
Start your search now on our site and have fun on your journey. There are thousands of beautiful apartments, condos, and houses to choose from in the Boston area.
Real Estate Investing in the Financial District
For commercial bankers as well as real estate investors and others interested in starting a real estate portfolio, you will find that Boston is a great place to turn a hobby into a profession as a real estate investor. There is always a new opportunity to invest your money in a prime location in the Financial District.
Also, don't forget that you may want to look into purchasing one of the commercial financial buildings if you are a large business corporation looking for a home. There are plenty of these to choose from in the Boston Financial District, and you're sure to find some good deals there.
Searching for Properties in Financial District
When you are ready to search for a commercial or residential property in the Boston Financial District (or other areas), you can start with a search for Financial District properties. Our site allows you to filter your search to specify key areas that you want to search for including sales or rentals, size of a home, type of home, and price, to name a few.
We developed this unique tool for Bostonians so that you will be able to find what you want quickly and easily and locate properties that you want to look into further. Good luck on your search!