Access the Best Fenway Development Opportunities with Boston City Properties
If you're seeking development opportunities in Boston, its Fenway neighborhood is a great place to look. Also known as Fenway-Kenmore, this vibrant neighborhood has seen an explosion of real estate development activity in recent years. In particular, life science and biotech construction and conversions have been at a fever pitch, enticing developers and investors from across the world. In turn, demand for residential real estate of all kinds has exploded across the area.
Click Here to Search
commercial properties
The first step in developing new commercial or residential properties in Fenway is acquiring the right real estate. Thanks to fierce competition for the best lots and parcels, this is often easier said than done. One thing's for sure: When seeking development opportunities in this eclectic Boston neighborhood, it pays to have all the help you can get. By connecting with Boston City Properties, you'll gain access to the resources, assistance and insider information you need to make effective decisions, increasing your odds of long-term success.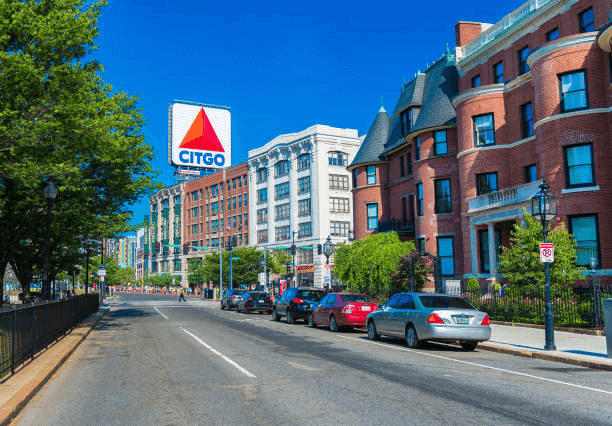 Why is Real Estate Development So Hot in Fenway?
Developers and investors have been flocking to Fenway for many reasons. The neighborhood has long enjoyed popularity thanks to its central location, sharing borders with Back Bay, Longwood Medical Area, the South End, Brookline and Allston-Brighton. Its proximity to MIT, Boston University and other schools makes it a prime area for residential real estate development. As lab and R&D space fills up in life science hotbeds like Kendall Square in Cambridge and the Seaport District in South Boston, biotech firms and startups have started turning to Fenway for their needs. During the third quarter of 2021 alone, the neighborhood signed more than 350,000 square feet of life science tenants in both new and converted space.
Commercial Development Opportunities in Fenway
The massive increase in life science development in Fenway has caused an exciting ripple effect for commercial real estate in the neighborhood in general. For example, the area around Fenway Park is rapidly being redeveloped for modern times. Significant life science developments like One Kenmore Square have put the neighborhood on the map in a big way. Fenway has more than 20 office buildings offering 2.2 million square feet of space. As of the third quarter of 2021, it also had four lab buildings offering 852,000 square feet.
Boston City Properties can help you tap into the exciting development potential of this charming Boston neighborhood. Our team knows how to make the most of opportunities in prime commercial areas like Kenmore Square, Brookline Avenue, Huntington Avenue, Boylston Street and Beacon Street.
Residential Development Opportunities in Fenway
If you're looking to develop multifamily housing, luxury apartment buildings or luxury condo buildings in Fenway, you're in excellent company. As the neighborhood grows as the region's newest and hottest life science cluster, demand for housing of all kinds has reached a fever pitch. With access to the MBTA Orange Line at Ruggles Station and home to six Green Line trolley stops, Fenway offers excellent public transportation connectivity, further increasing its popularity as a home base for families and professionals of all kinds.
Median sale prices for homes in Fenway appreciate reliably, bringing great returns for investors and developers. Similarly, median rent prices in the neighborhood exceed $2,500 per month for one-bedroom units, and prices increase annually and dependably. Boston City Properties can help you identify the best residential development and redevelopment opportunities in Fenway.
Why Boston City Properties?
When seeking development opportunities in a white-hot market like Fenway's, it's crucial to line up the right help. Boston City Properties is here to provide it in several ways, including:
Experienced Brokers and Agents – We have connections to experienced and talented real estate brokers and agents across Fenway, and we can refer you whenever you're ready. With help from these knowledgeable professionals, finding and procuring lots for development and redevelopment for projects of all kinds is much easier and more reliable.
On- and Off-Market Listings – You can sign up this instant for immediate, free, unlimited access to our searchable online database of Boston real estate listings. Use the search tool to check availability for properties that suit your requirements quickly. BCP also has access to off-market opportunities, which pop up from time to time and often present the most promise for investors and developers.
Local Expertise and Insider Knowledge – When seeking development opportunities in Fenway, it helps to have connections. You gain many valuable ones by signing up with BCP. Our team knows Fenway and its residential and commercial real estate markets well. Our insider knowledge of the ins and outs of everything from zoning requirements to historical restrictions gives you the insights you need to make informed, strategic decisions.
Locate Fenway Development Opportunities for Multifamily Housing, Lab Conversions and More
Another benefit of teaming up with Boston City Properties for development opportunities in Fenway is that we can assist you with projects of all scopes and across all niches. Whether you are interested in acquiring land for developing new multifamily housing, a mixed-use development or new lab and R&D space, we can help. Likewise, we understand the intricacies of lab conversions and can help you navigate such projects with ease. Our extensive network of real estate professionals and connections with industry insiders make us a powerful ally in all of your Fenway development endeavors.
Contact Us Today for Development Opportunities in Fenway, Boston
It's easy to feel like you have to scramble and reach out to countless random people and agencies when seeking development opportunities in a competitive market like Fenway's. By connecting with Boston City Properties, you can access all the help and information you need in one fell swoop. We are a Boston commercial real estate leader, and our connections and resources are sure to serve you well from beginning to end. Whether you want to develop residential properties in West Fenway or acquire land for lab conversions or development in Kenmore Square, our team is ready to assist you. Give us a call today to get started.