August 12, 2023
Chicago Investment Firm Acquires Assembly Row Apartment Complex for $188 Million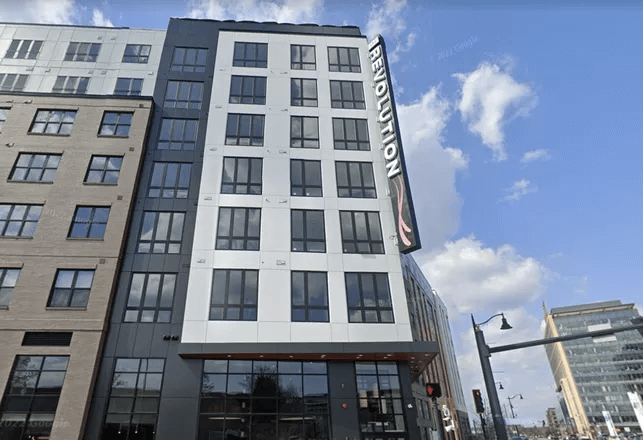 With demand continuing to outpace supply across Greater Boston, opportunities to acquire major residential development have been few and far between. However, a Chicago-based investment firm recently had some success. The investor in question, Mesirow, recently closed on the acquisition of Alta Revolution apartments at Assembly Square, capitalizing on Somerville's explosive life science market.
The seller, Wood Partners, purchased the property for $34 million in 2019 and completed construction on the development last year. Located at the corner of Revolution Drive and Grand Union Boulevard, the 344,000-square-foot apartment property features 329 rental units across eight stories. Options range from studios to three-bedroom townhomes with private entries.
Acquisition funding for the deal was provided by Walker & Dunlop. Per deed records, the firm provided $104 million to Mesirow to complete the transaction.
Located in Somerville's white-hot Assembly Square, Alta Revolution apartments feature 324 one-, two-, and three-bedroom flats – plus five direct-entry townhome units. The striking building has a contemporary design, including a façade made up of black, gray, terracotta, and white paneling. The property also include 10,000 square feet of ground-floor retail space and a 2.5-level parking garage with 188 spaces.
The acquisition occurs in the wake of the updated Assembly Square Neighborhood Plan, which was released in 2022. The new plan places an emphasis on new housing development, safer roads, and growing and expanding the local economy.
Retail, lab, and office space across Assembly Square and Somerville has been booming, prompting even more demand for housing across all income levels. Alta Revolution includes 66 income-restricted apartments to adhere to this requirement.
In October of last year, Federal Realty's Assembly Row development added several new retail tenants, including Paper Source, Coach, and Athleta storefronts. A 4,000 SF dog park is also in the works for the site.
Meanwhile, the life science real estate market in Somerville continues to boom. Next year, BioMed Realty will complete construction of Assembly Innovation Park, a 495,000 square foot life science campus. In May, Greystar topped off the development of 74M, a 17-story, 465,000 SF life science building on Middlesex Avenue.
With so much new retail, office, and lab space being developed in Somerville, it's easy to see why investors are eager to snap up residential multifamily properties. Alta Revolution is a transit-oriented multifamily community with ground-floor retail space, providing a convenient location for office workers, lab workers, students, and others in the area.
The state-of-the-art apartment building features an array of amenities, including a fitness center, a game room, private work pods, and a lounge with a community kitchen. The development also includes recording studios with sound booths – a unique feature not found in most rental properties.
Alta Revolution also includes an internal, private courtyard with a resort-inspired swimming pool, a hot tub, fire pits, outdoor showers, and various types of dining and entertainment space. The premises also features a pet spa and an indoor park – upscale amenities geared toward pet-loving tenants.
The acquisition of Alta Revolution apartments is unlikely to impact the local area in any major way. Thus far, the new owner has not mentioned any plans for changing or redeveloping the site. Other than the 66 income-restricted units, apartments in the building fetch market-rate rent prices. Most recently, a studio unit in the development was renting for $2,630 per month, and a three-bedroom apartment was renting for around $6,300 per month.
The deal highlights the dearth of options currently available for investors and developers across the Boston area. With most Boston neighborhoods lacking any available inventory, Somerville has become the latest hot spot for life science and residential development.