Locate Development Opportunities in Brookline, MA with Boston City Properties
Thanks to the ongoing real estate development boom across the city of Boston, the entire region has become a hotbed of development opportunities. If you're interested in tapping into such opportunities, exploring the neighboring town of Brookline is a great idea. This densely populated Norfolk County town of roughly 63,000 people offers a central location adjacent to several Boston neighborhoods, including Fenway-Kenmore, Brighton and Allston. Bustling pockets of commercial activity abound across this transit-rich area, making it a terrific place for savvy investors and developers.
Click Here to Search
commercial properties
Considering how busy Brookline has been in terms of development activity lately, competition for the best parcels and lots is fierce. To get in on the action, it's vital to have the right resources at your disposal. The best way to ensure that is by connecting with the experts at Boston City Properties. Our team has skilled agents and brokers across Brookline who can guide and assist you in your endeavors. We maintain a vast online database of searchable Greater Boston real estate listings, and you can put it to work for you right now. We can also bring you exciting off-market listings to expand your reach and improve your odds of success.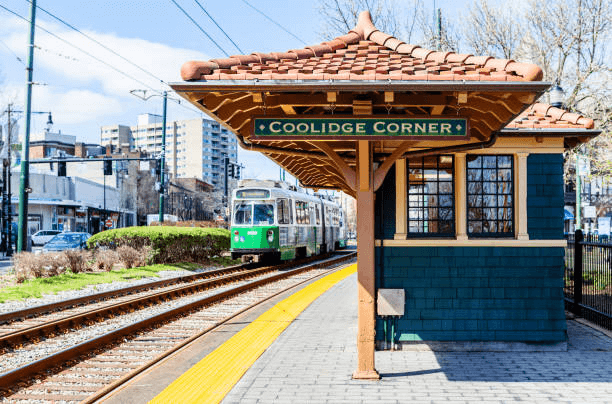 Why Brookline?
Brookline is an eclectic town with a little bit of something for everyone. North Brookline is densely populated, highly urban, well-connected in terms of public transportation and very walkable. Other parts of the town are more suburban. Lately, various new mixed-use developments have been going up across the town, and life science development has also been increasing. Whether you're interested in developing residential or commercial properties, the team at BCP can help you identify lots and parcels for sale that suit your most exacting requirements.
Commercial Development Opportunities
With its large population of educated, financially stable individuals, Brookline is a terrific place for investors seeking commercial development opportunities. The town has many established commercial corridors and areas, including Brookline Village, The Street and Coolidge Corner. The C & D branches of the MBTA Green Line are easily accessible, offering service to downtown Boston and out to Newton. From Boylston Street to Harvard Street, many areas are appropriately zoned for commercial projects of all kinds.
In recent years, development activity in Brookline has soared to new and exciting heights. For example, a huge mixed-use office/lab development at 109 Brookline Avenue demonstrates the increasing prominence of life science firms in the area. They bring additional demand for new lab buildings and lab conversions. At Beacon and Harvard Streets, Coolidge Corner is always an excellent place to seek land for sale for commercial developments of all kinds. BCP can connect you with experts and resources to help you make the most of Brookline's best commercial development opportunities.
Residential Development Opportunities
Brookline boasts a robust and eclectic market with a diverse array of housing options. Lately, demand for high-density, multifamily housing has reached a fever pitch here, and single-family homes, townhouses, condos and duplexes are flying off the market for median sale prices that are more than double the state average. New rental townhomes have gone up in South Brookline with much fanfare, and a mixed-use development of luxury apartments in Chestnut Hill generated tons of buzz and interest. Therefore, if residential real estate development is your thing, Brookline is a terrific area to consider – especially with assistance from BCP.
How Boston City Properties Can Help
At BCP, we know how daunting it can be to navigate a competitive, fast-paced real estate market like Brookline's. Therefore, we strive to smooth things out for investors and developers, allowing them to locate properties for sale that dovetail with their development needs. We do so in many ways, including:
On- and Off-Market Listings – You can sign up to search our real estate listings right away to kick-start your development endeavors in Brookline. Our team is also happy to alert you of exciting off-market listings that can give you a crucial edge over the competition.
Local Expertise and Insider Knowledge – When you connect with BCP, you gain access to a wealth of resources and connections with local industry insiders. Our understanding of Brookline and its real estate submarkets runs deep, providing you with crucial insights as you work toward whatever development goals you have in mind.
Talented Agents and Brokers – Finally, we have experienced and talented real estate brokers and agents across Brookline with in-depth knowledge of local submarkets. These professionals can help you identify opportunities that allow you to meet your most ambitious investment and development goals. With their insider understanding of local real estate, you're sure to find what you need and be on your way in no time.
Find Development Opportunities for Everything from Multifamily Housing to Lab Space
Regardless of where your development interests lie, BCP is here to assist you in uncovering prime opportunities in Brookline. Whether you are interested in developing new luxury condos or apartments, exploring lab conversion opportunities, or are looking for land for a new mixed-use development or another major project, our team is here and ready to help. Our insider understanding of crucial factors like zoning requirements, historical restrictions and the like makes it easier for you to pinpoint options that suit your needs.
Contact BCP Today to Explore Brookline Development Opportunities
There's a lot of money to be made in real estate development in Brookline. However, finding the right parcels for sale for specific development goals is no easy feat. For the best odds of success, it pays to have access to timely, accurate and valuable resources. Boston City Properties is here to provide it. Sign up now to search our Greater Boston real estate listings right away. Let us know what you're looking for, and we may have off-market listings for you. We can refer you to a skilled Brookline real estate agent or broker who can guide you through the process from start to finish. Call today for more information.