Find Prime Development Opportunities in Brighton, Boston
When seeking development opportunities in Boston, Brighton is a terrific area on which to focus your search. This sprawling neighborhood of around 43,000 is home to a major university, boasts a massive new mixed-use campus that's triggering new developments of all kinds and borders Cambridge, Watertown and other areas experiencing phenomenal life science growth. These and other characteristics make Brighton a land of opportunity for savvy investors and developers. If you'd like to get in on the action, Boston City Properties is here to help.
Click Here to Search
commercial properties
A Boston commercial real estate leader, Boston City Properties offers an array of resources to help you uncover exceptional development opportunities in this vibrant Boston neighborhood. We maintain a huge online database of searchable Boston real estate listings, which includes a powerful search tool that makes it easy to zero in on what you need. Our team has connections with experienced commercial and residential real estate professionals who know Brighton and its submarkets well, and they can even alert you to exceptional off-market listings. With our help, finding parcels for sale that are perfect for your vision is much easier.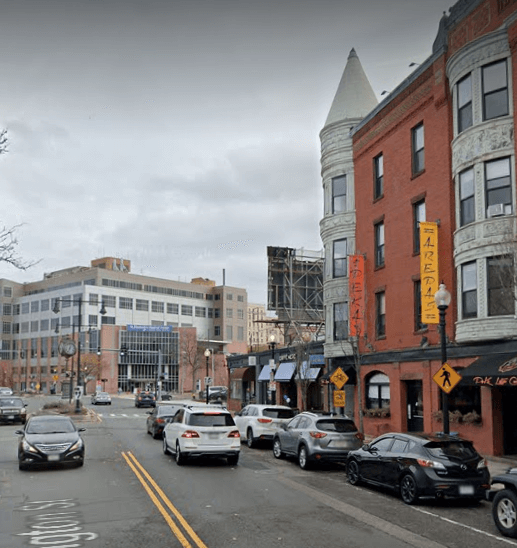 Reasons to Seek Brighton Development Opportunities
Boston has been experiencing explosive growth across most of its real estate submarkets for some time. As companies and developers vie for space downtown, in the Seaport and other in-demand areas, interest in places like Brighton has grown exponentially. The neighborhood connects to Boston via Allston and borders Cambridge, Watertown, Brookline and Newton. It's also well-connected in terms of mass transit. The B branch of the MBTA Green Line light rail service offers 11 stops along Commonwealth Avenu, and there's a stop on the Framingham-Worcester commuter rail line at Boston Landing.
Commercial Development Opportunities
Along with Allston and Longwood Medical Area, Brighton has lately seen burgeoning interest from life science developers and biotech firms. As a result, demand for lab conversions, lab space, R&D space and office space has spiked considerably in the area. The area is home to 22 office buildings offering 1.9 million square feet and eight lab buildings offering 2.7 million square feet of space. Major commercial centers at Brighton Center, Oak Square and Cleveland Circle, among many others, present opportunities for retail development and more.
Since the development of Boston Landing, situated along the Mass Pike, Brighton's star has been shining even brighter. Home to the New Balance world headquarters, this sprawling, 15-acre mixed-use campus has triggered intensified demand for everything from new retail to new office space. Allston Yards, another new mixed-use development situated where Allston, Brighton and Boston Landing meet, offers additional evidence of the sky-high demand for shops and services around the area. With help from BCP, you can identify parcels for sale in Brighton to suit your commercial development goals.
Residential Development Opportunities
Home to Boston College, Brighton is a bona fide college town with the high turnover that goes with it. Much of its residential rental market is dominated by students, so demand for apartments and other housing is strong throughout the year. The median rent here is around $2,400 per month for a two-bedroom apartment, and landlords can increase the rent considerably from year to year. Demand for everything from triple-deckers to new apartment buildings is constant so that residential developers can tap into all kinds of opportunities in this vibrant neighborhood. Median home values are a bit higher than the state average, and new homes and condo and apartment buildings are going up all the time.
How Boston City Properties Can Help
Boston City Properties is happy to assist if you're looking to invest in land in Brighton for commercial or residential development purposes. When you connect with us, you gain access to these services and much more:
Experienced Brokers and Agents – BCP has connections with skilled and experienced real estate brokers and agents across Brighton. We can connect you with one whenever you're ready. These experts know the neighborhood and its submarkets like the back of their hands, providing you with critical insights to make your search easier and more efficient.
On- and Off-Market Listings – You can sign up right now for instant, free access to our vast, searchable database of constantly updated Boston real estate listings to check current availability for land and parcels for sale across Brighton. More importantly, BCP can bring you prime off-market listings that dramatically increase your odds of finding exciting and lucrative opportunities.
Insider Knowledge and Local Expertise – We know Brighton real estate at BCP. Our agents and brokers understand the intricacies of this sprawling neighborhood's various submarkets and have connections with key players who can assist you with your plans. Our in-depth understanding of the neighborhood and its development opportunities is sure to be a crucial tool in your arsenal.
Access Development Opportunities Across All Sectors in Brighton
No matter what kind of development activities you have in mind, BCP can assist you in identifying and procuring lots for sale in Brighton to suit your needs. The vast majority of the land in the neighborhood has been developed and even redeveloped extensively, and it's crucial to understand the ins and outs of zoning and other factors. Whether you're looking to develop multifamily housing, a mixed-use development, lab space or a retail development, you can count on Boston City Properties for dependable and effective assistance and advice.
Call Boston City Properties Now for Brighton Development Opportunities
Given the highly competitive nature of Brighton's real estate submarkets, pinpointing properties for sale that are suitable for various development activities is easier said than done. Unless you already have extensive experience and connections in the area, it's easy to feel overwhelmed. Instead, do yourself a favor and connect with the professionals at Boston City Properties. We'll give you immediate access to our searchable listings so that you can hit the ground running with your search. Our team can apprise you of exciting off-market opportunities and refer you to brokers and agents in the neighborhood whose guidance is sure to be invaluable. Call us today for more information.