Take Advantage of Exciting Opportunity Zone Investing in Boston with Boston City Properties
If you are a real estate developer looking to maximize investments in real estate ventures in the city of Boston, Opportunity Zone investing is something that should be on your radar. Established by the U.S. Tax Cuts and Jobs Act of 2017, the Opportunity Zone Program was established by the federal government to provide financial incentives for investing in specially designated census tracts. The primary goal of this program is to spur growth in low-income areas, so the program doesn't just benefit investors – it benefits struggling local communities too.
Search Properties In
Opportunity Zones
What do you have to gain from investing in real estate development in a Boston Opportunity Zone? Put simply, individuals who participate in this program stand to enjoy favorable treatment from investing capital gains – through privately established Opportunity Funds – into economic activities in specific geographic areas.
There are three incentives available for creating these Opportunity Funds from capital gains and investing them into development in federally designated census tracts:
The temporary deferral of income that's reinvested into Opportunity Funds. The gain must be recognized when the investor exits the fund or on December 31, 2026 – whichever occurs first.
If an investor remains in an Opportunity Fund for at least five years, the tax liabilities related to their original capital gains are reduced by 10 percent. By remaining in for at least seven years, their tax liabilities are reduced by an additional 5 percent.
By keeping an investment in an Opportunity Fund for at least 10 years, any gains from that fund are permanently exempt from taxation.
Opportunity Zones in Boston
Now that you know the basics of the Opportunity Zone Program and what it can do for investors like you, you would probably like information regarding Opportunity Zones in Massachusetts generally and in Boston specifically. According to the terms of the program, the governor of each state can nominate up to 25 percent of low-income census tracts, or LICs, for designation as Opportunity Zones. Out of the 1,478 census tracts in Massachusetts, 581 were deemed eligible for this designation. The state was allowed to nominate a maximum of 138 such tracts, and Governor Charlie Baker nominated the maximum amount possible – and many of them are located in the Greater Boston area.
Designated Opportunity Zones in Massachusetts consist of communities that have median household incomes that fall below the state average. A fair number of them – 48 percent – consist of so-called gateway cities, which are communities with populations of between 35,000 and 250,000 that meet various types of income- and economic-related criteria. All told, 13 Opportunity Zones have been established in the city of Boston; for example, some of these can be found in Chelsea. The cities of Quincy and Somerville have two Opportunity Zones each, and one Opportunity Zone is located in the city of Cambridge.
The federal government hopes that by spurring interest in investment in these designated areas, struggling local communities may benefit in a number of ways. In particular, low-income areas may attract new businesses that bring in thousands of new jobs. Areas of lower density may become more developed, which will also provide more job opportunities and other benefits for local residents. These and other phenomena would also spur various types of infrastructure improvements that would benefit local businesses and residents alike.
How to Find Opportunity Zone Investment Opportunities in Boston
Despite all of the buzz that was generated when the Opportunity Zone Program became established in 2017, investors in Massachusetts have been slow to act upon its many opportunities. Locally, only a handful of qualifying projects have gone underway, so opportunities remain rife.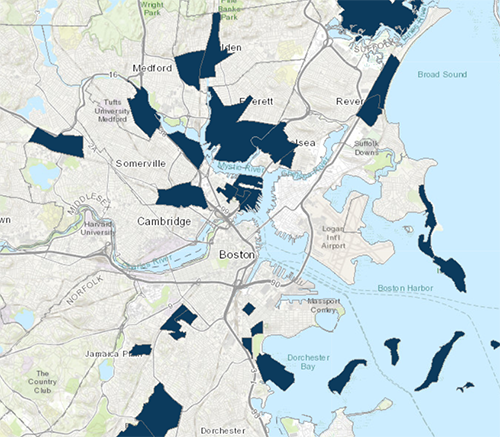 Search the Mass.gov Opportunity Zone Map to view opportunity zones throughout the state.
Of course, finding those opportunities is easier said than done. Street-level maps displaying the designated census tracts are available online, but identifying actual, workable opportunities is no easy feat. If you are interested in taking advantage of the considerable tax incentives that go along with investing in Boston Opportunity Zones, Boston City Properties is here to help. We can connect you with the resources and assistance that you need to identify and make the most of the best Opportunity Zone investment opportunities in Greater Boston, so give us a call whenever you're ready to proceed.
Search Boston Area
commercial real estate