Boston: A City of Neighborhoods
Boston derives its vitality and strength from its many neighborhoods, each of which proudly displays its own character. From the picturesque, cobblestone streets of Beacon Hill to the sparkling glass and steel high-rises of the Seaport District to the meditative garden pathways of Chinatown's park, here is an overview of the neighborhoods that comprise the great city of Boston.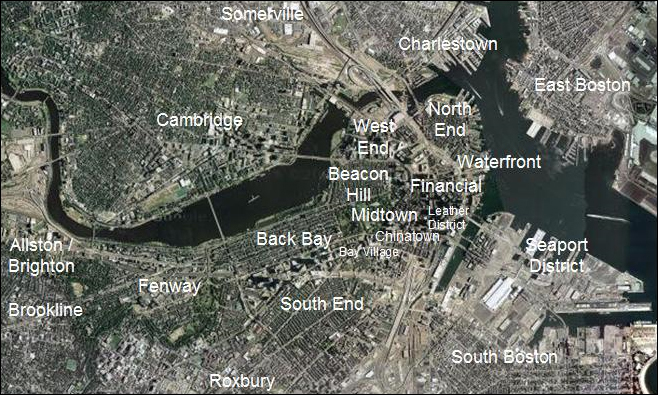 Back Bay
Built on 450 acres of infill in the 19th century, Boston's Back Bay remains a marvel not only for its pioneering engineering, but for its cultural and architectural splendor. Back Bay is home not only to the instantly recognizable Prudential Tower and the John Hancock Tower, but also a series of immaculately restored Victorian row houses. The neighborhood offers a variety of cultural and commercial amenities within easy walking distance. In recent years the neighborhood has boasted a prosperous commercial district along St. James Street, Newbury Street, and Boylston Street, featuring a mix of boutique retailers and internationally known brands. The Back Bay is also a nexus for large-scale cultural events, with regular concerts and events held at the Esplanade next to the Charles River. The neighborhood also serves as the Boston Marathon's finish line. This synergy of cultural and commercial interests makes it a prime locale for excellent real estate investments. A 1.26 million square foot mixed-use development, which features luxury housing units, has been recently approved by the city.
Bay Village
With a smattering of Art Deco-styled studios and former warehouses, Bay Village retains vestiges of its 1920s filmmaking roots while also preserving its beautiful, largely hand-crafted residential neighborhood. The area, which is located in close proximity to the South End, Downtown Boston and the Back Bay, takes pride in its highly walkable if somewhat narrow streets, which are often composed of brick sidewalks lit by gas lamps. Although Bay Village is primarily residential, its geographic locale places it within easy distance of several major commercial arteries in nearby neighborhoods. The array of adjacent dining options, from romantic Italian bistros to cutting edge Japanese fare, makes living in Bay Village a rich and rewarding experience.
Beacon Hill
A perennial postcard favorite, Beacon Hill is home to several landmark buildings, including the Massachusetts State House. Suitably, Beacon Hill takes its name from the fact that it is built on the city's only remaining three natural hills. The neighborhood's housing stock tends to be of the intimate red brick variety with cobblestone streets, although Beacon Hill isn't just a residential oasis; it also features a lively commercial boulevard in the form of Charles Street. A variety of specialty stores, many of which cater to antiques shoppers, help foster an atmosphere that is both historic and vibrant. The neighborhood's restaurants include a selection of Mexican, French, Italian, and Middle Eastern cuisine, with a forward-looking array of fusion and experimental menus. The wine selections are some of the finest in the larger Boston area. Additionally, Beacon Hill is within a short distance of famous sites such as The Boston Common and the Esplanade.
Cambridge
Technically a city unto itself, Cambridge is often referred to as a neighborhood of Boston not only because of its proximity, but because of the Bostonian attributes it embodies. Home to Harvard University and the Massachusetts Institute of Technology, Cambridge is also a center of innovation and entrepreneurship. Kendall Square, bounded by Main Street and Broadway, is host to a variety of start-ups and other successful companies that often draw on the high number of talented students and visionaries who live and study in the area. Several new housing developments, some of which integrate work and recreational functions, have been built in Kendall Square to meet the demand for space from new residents. Because of this growth, there are plans to build a new massive supermarket to serve the bustling residential and business communities.
Charlestown
Although Charlestown is the oldest neighborhood in Boston, it effortlessly blends the present with its rich past. With a series of new luxury condominiums overlooking the waterfront and innovative restaurants opening up for business next to three-hundred-year old taverns, Charlestown is a rich sampling of the best of what Boston has to offer. The Spaulding Rehabilitation Hospital and the Bunker Hill Community College anchor the area, while the ample green space of the Charlestown Navy Yard national park forms an elegant counterpoint to the neighborhood's row houses and historic sites, such as the Bunker Hill Monument. Visitors can take the Freedom Trail, which winds its way through the city's oldest continuously inhabited structures, or simply stroll along the pubs and upscale eateries on Main Street. With easy access to downtown, Charlestown remains one of the most intriguing areas of the city to the explore.
Chelsea
A relatively small but densely populated burg, the city of Chelsea is accessible to Boston via the Tobin Bridge, which runs across the Mystic River. Chelsea's close proximity to Boston has made it an ideal location for real estate development; numerous new luxury condominiums and apartment buildings have been built in the last decade, and many more are in the works. A corresponding boom in retail and restaurant development, among other commercial properties, has followed the dramatic increase in housing. Breweries, pizzerias and seafood restaurants pepper the city, providing ample opportunities for a delicious meal. The city has also retained many of its historic sites, including the Chelsea Garden Cemetery and the Bellingham Square Historic District. It also offers unimpeded access to recreation sites such as a skating rink, a steam bath, paintball and various theater companies. Medford also acts as a governmental center; the FBI has based its regional headquarters here.
Chinatown
Whether seeking dumplings, exquisitely seasoned soups, or a rousing multi-course Dim Sum, Chinatown's delicious roster of eateries and boutiques makes the neighborhood a destination spot for denizens and visitors alike. Featuring a mixture of historic structures and sparkling new developments, Chinatown is also distinguished by its iconic Beach Street gate and public green space in the form of the bamboo-laden Chinatown Park. The ¾ acre park, which is part of the larger Rose F. Kennedy Greenway, features an open plaza for event staging, such as festivals and other celebrations. At the north end of the park, there is a winding path through lush Asian gardens, perfect for a contemplative stroll. As a whole, the neighborhood has retained its vitality partly because of its varied districting; with a range of institutional, residential, and commercial tenants, Chinatown is constantly growing and thriving.
East Boston
East Boston's Central Square and Maverick Square feature some of the most creative and unusual stores in the city, catering to a wide range of tastes and styles. This thriving commercial district is balanced by several open natural spaces, such as Constitution Beach and Belle Isle Marsh Reservation. Nicknamed "Eastie," the area, which is situated across Boston Harbor on a series of islands and engineered infill, offers scenic views of the adjacent city, especially from Piers Park. As the location of Logan International Airport, East Boston is quite literally a place on the move; the area acts a crucial transportation hub for the city, and New England at large.
Everett
Located just four miles from Boston, the city of Everett is experiencing a new wave of growth, with new proposed developments offering luxurious housing options near commercial centers. The city's central business district is located along Broadway in an area known as Everett Square. A major new development of Everett Square has been proposed that would dramatically increase the number of housing units in the city, in addition to expanding the amount of public green space. The development would also foster a more pedestrian-friendly culture, creating a higher level of engagement with restaurants, boutiques and other businesses along Broadway and Union Street. The number of bus routes and close location of Route 16 make Everett easily accessible to the greater Boston area.
Fenway
Known as the home of baseball's Boston Red Sox, the Fenway neighborhood is not only host to the famous Fenway ballpark, but also to the sumptuous landscapes of the Back Bay Fens, which were designed by Frederick Law Olmsted. Because of its rich historical legacy, Fenway has become a popular place for real estate development, with new luxury condos added to a pre-existing urban fabric of brick row houses and renowned cultural institutions including the Berklee College of Music, the Museum of Fine Arts, the Isabella Stewart Gardner Museum, and the New England Conservatory. Both Boylston Street and Brookline Avenue boast a dazzling array of restaurants, music clubs, and shopping venues that create a vibrant, cosmopolitan vibe, day and night. Situated between Allston and downtown Boston, Fenway is an ideal location for anyone who wishes to sample the best of the Boston metropolitan area.
Financial District
Located near Chinatown and the Government Center, Boston's Financial District is defined by several notable landmarks, including Post Office Square. The 1.7 acre public park features over 100 different plant species, a central lawn with a pergola, and numerous fountains. The Custom House Tower, one of the city's most recognizable neoclassical skyscrapers, sits at the heart of the Financial District in McKinley Square, within close distance of the Rose Fitzgerald Kennedy Greenway. The neighborhood's elegance and sophisticated amenities has made it popular both with commercial and residential luxury developers, creating a hub for upscale tenants. Numerous corporations and prominent law firms have made the Financial District their home, while an array of restaurants and boutique shops serve those lucky enough to live here.
Leather District
Between 2000 and 2010, the Leather District's total number of housing units grew by over 140 percent. This astounding increase in development is reflective not only of the completion of the Rose Fitzgerald Kennedy Greenway, but the transformation of primarily industrial warehouse spaces into residential units. Composed of nine square blocks, the Leather District offers residential tenants the joy of living in freshly refurbished loft spaces, and commercial tenants the thrill of operating within historic, cast-iron infused structures. The neighborhood thrives not only because of its beautiful spaces, but its relatively close proximity to other bustling areas, including Chinatown. Adjacent to the South Station, a major transit hub in Boston, the Leather District is easy to get to from virtually anywhere, yet retains its own characteristic charm. The area's tightly integrated blend of residential and commercial spaces portends high property values for decades to come.
Medford
Situated on the banks of the Mystic River only miles from downtown Boston, the city of Medford is comprised of a variety of different housing types, from brick apartment buildings to centuries-old mansions to brand new luxury developments. The city's long history has imbued it with a variety of cultural institutions; Tufts University is based here, and the city has a strong media presence in the form of multiple locally programmed public television channels. In addition to numerous historical sites such as Amelia Earhart's residence and the Old Ship Street Historic District, Medford boasts a stunning medley of restaurants and eateries. Almost every cuisine known to humanity is represented in this city, contributing to a vibrant and enjoyable nightlife.
Midtown
Located among Downtown Crossing, The Financial District, and the Government Center, Midtown Boston is a rapidly developing area of luxury apartments and condominiums with incredible access to some of the city's finest restaurants, retail, and institutions. Luxury units from two bedrooms to multi-story penthouses are now on the market. Downtown Crossing has an estimated daily foot traffic of 250,000 and a roster of clothing outlets, major retailers, and savory eateries to match. The theater district, which features such historic auditoriums as the Paramount and Opera House, is adjacent to the Business Improvement District, which is host to numerous large open-air fares, networking events, and seasonal festivals. Gleaming office towers mingle with the manicured public green spaces of the Rose Kennedy Greenway and the Boston Common, while over five miles of scenic adjacent waterfront offer magnificent views of the Harbor.
Newton
Once a part of Cambridge in the 17th century, Newton is now one of the most desirable suburban cities adjacent to Boston. Located only seven miles west of downtown Boston, Newton is experiencing a new wave of growth not only for its proximity to the metropolis, but for its inherently charming civic character. Several mixed-use developments, including numerous luxury condominiums, have been proposed along Needham Street, Richardson Street, John F. Kennedy Circle, and Washington Place, among other locations. Described as both one of the safest and best small cities in the nation in which to live, Newton is also famous for its symphony orchestras and numerous hills, which create challenges for those who run the annual Boston Marathon. Not all of Newton's amenities are urban; a 33-acre lake known as Crystal Lake includes two parks, a bath house, and a public swimming area. Additionally, the city takes special pride in maintaining scenic roads, on which trees are regularly trimmed and historic stone walls preserved. The city's cemeteries offer a remarkable tour through history; the East Parish Burying Ground has been in use since 1664.
North End
Known informally as the "Little Italy" of Boston, the North End is a cornucopia of Italian bakeries, shops, and restaurants. From mouth-watering mozzarella to the finest Sicilian dishes, the restaurants serve almost every Italian cuisine imaginable next to an atmosphere of historic brick apartment buildings. Inhabited since the 1630s, the North End is one of the oldest parts of the city, and features some of its most famous sites (including Paul Revere's house) and awe-inspiring views. The Boston Harbor surrounds North End on two sides; a number of hotels, restaurants and event spaces have been built here specifically to overlook the water, including Mirabella Pool. Despite the density of the neighborhood, numerous green spaces have been woven into the urban fabric to provide places to relax and unwind.
Revere
Bordering East Boston and Chelsea, the city of Revere is a rapidly developing area that features elegant townhouses, condos, and detached forms of housing. Numerous hotels and restaurants have been built in the city, creating a dynamic civic life. Named after Paul Revere, the city is most famous for its spectacular beach, which is the oldest public beach in the nation. The area directly next to the beach has often been a site for arcades and other forms of entertainment; in the late 20th century, this area underwent a round of new development, and now is home to several luxury condominium buildings and grand new pavilions that provide marvelous views of the water to their tenants. The city also boasts some of the oldest food companies in America; a local candy manufacturing company has been in operation for over one hundred and fifty years.
Roxbury
A thriving commercial center with numerous stores and restaurants, Roxbury is located in the geographical center of Boston, and features historic, picturesque structural amenities like Boston's famous "triple decker" housing next to innovative and sustainable new property developments, some of which have garnered LEED certification. In addition to the upcoming conversion of the Ferdinand building into the headquarters of the Boston Public School system, Roxbury's Blue Hill Avenue is now a destination spot for businesses of all kinds. This is partially due to the concentration of public transit hubs within Roxbury, which make it highly accessible to locals and visitors alike. The dense urban setting is peppered throughout with public green space, allowing Roxbury to achieve the ideal balance between bustling city and scenic outdoor sanctuary.
Seaport District
One of the hottest areas in terms of luxury real estate development, Boston's Seaport District is also home to the city's Innovation District, which actively fosters relationships between entrepreneurs, inventors, and other visionaries. The variety of new residential and commercial developments that are opening to the public makes the Seaport District a vibrant and extremely desirable investment. Several global corporations have opened headquarters in newly constructed complexes, while a roster of recently completed high-end condominiums overlook spectacular waterfront views. The density of the developments has created a bustling cultural scene, with fresh restaurants and stores opening along the main boulevards. The neighborhood's location to easy public transit makes it highly accessible to other parts of Boston, as well as to the larger global economy. Seaport District's seemingly endless supply of open space, thanks to its converted docks, predicts an architecturally, commercially, and culturally vibrant future.
Somerville
Located on the northwest side of Boston, the city of Somerville is adjacent to Charlestown and Cambridge. In addition to a series of freshly completed luxury condominium developments, the city features a tree-lined trail known as the Somerville Community Path that tours from Lowell Street to the boundary of Cambridge, creating an elegant civic throughline. Somerville is often thought of as a neighborhood of Boston due to its easy accessibility; the town began life as a streetcar suburb of the larger city, and maintains excellent public transit. The Dilboy Stadium hosts numerous sporting events throughout the year. Somerville also boasts a vibrant arts scene, fuelled in part by major commercial art studios that have taken up residence in retrofitted industrial buildings. An annual film festival and other seasonal events contribute to the area's convivial urban character.
South End
With the largest existing residential Victorian housing district in the United States, South End is steeped in history, yet invigorated by the future. The highly desirable neighborhood continues to evolve principally through its thriving arts district and longstanding medical and academic tenants, including the Boston University School of Medicine and the Boston Medical Center. Because of its historic and brand-new property developments, the area attracts a mix of residents who relish restoration and innovation. Washington and Tremont Streets have become home to a dynamic mix of boutique shops, restaurants, and art galleries, while the South End Business Alliance works with local merchants and entrepreneurs to foster a prosperous business community. Each season features a new communal activity; in the summer, the SoWa Open Market functions as a kind of commercial beacon, bringing in shoppers from the larger metropolitan area. Thousands of new luxury apartments and condos, mainly of which are concentrated in the so-called "Ink Block," either are or will soon be on the market.
South Boston
One of the city's most promising areas for new real estate development thanks to its ample open spaces, South Boston's industrial legacy of machine shops, shipyards, iron foundries and railroads has transformed it into a hot spot for 21st century living. The commercial district is bustling along West and East Broadway, while easy access to the waterfront amusement parks and beaches such as L Street Beach, Strandway, and Pleasure Bay make it both a joy to visit and inhabit. Like many other formerly industrial metropolitan areas that are experiencing substantial new growth, South Boston's mixture of time-tested infrastructure and scenic amenities makes it a wonderful place for both first-time homeowners and veteran property owners. New developments can take advantage not only of the neighborhood's evolving cultural scene, which features an array of nightclubs, restaurants, and innovative boutiques, but the excellent public transportation and unencumbered spaces and views.
Waterfront
Institutions as varied as the Institute for Contemporary Art, the Boston Design Center, the John Joseph Moakley United States Courthouse, and the Bank of America Pavilion call Boston's Waterfront their home. The neighborhood has transformed over the centuries from a ship-based operation to a staging ground for one of the most spectacular urban transformations in recent memory. This is partially due to the large amounts of open space, the awe-inspiring views, and the surprising ways in which older infrastructure has been retrofitted to serve contemporary purposes. The large piers along the waterfront, for example, have been used for festivals and special events such as a performance from Cirque de Soleil, while seasonal restaurant pop-ups along the water are not uncommon. Numerous new housing and commercial developments have sprung up within the boundaries of the Waterfront, capitalizing on the rapid growth and subsequent burgeoning success of the area.
West End
Home to numerous luxurious high-rises and apartment towers that boast unparalleled views of the Charles River and the Longfellow Bridge (known as the "Salt-and-Pepper Bridge" by residents because of how its supporting towers are shaped), the West End is a meticulously developed neighborhood that balances green space and scenic walkways with a lively, dense urban fabric. Home to Massachusetts General Hospital and located just north of Beacon Hill, the West End offers constant opportunities for innovation and refinement. As an example of the type of creative developments within the area, West End's historic jail was converted into a fashionable hotel and bar that regularly attracts upscale patrons. The mixture of cultural amenities, from the West End Museum to the Boston Museum of Science to the vibrant culinary scene, attracts tenants who love living within short walking distance of a thriving metropolitan center.