If you're looking for luxury apartments in Boston or the surrounding area, trust the experts at Boston City Properties. With our massive, constantly updated database of searchable luxury apartment listings and help from our talented team, you'll quickly zero in on options that suit your budget, needs and lifestyle.
Competition for the best Boston luxury apartments is fierce. Although new developments are opening seemingly every week, vacancies tend to be snapped up quickly. Like anyone who's searching for a top-notch apartment home in the city or outlying area, you surely have specific requirements in mind. By availing yourself of our convenient, free search feature and other services, you can get precisely what you want without wasting huge amounts of time or effort.
Find Luxury Apartments in All Boston Neighborhoods and Suburbs
Luxury apartment homes are readily available throughout the greater Boston area. Boston City Properties knows each neighborhood and suburb like the back of our hands, and we are familiar with the best options in each one. Our searchable database lets you specify neighborhoods, towns and cities that are in your desired area, which makes it much easier to find apartments that meet your criteria. From Allston to the Theatre District, pinpointing the best apartment developments in any part of Boston is as simple as can be.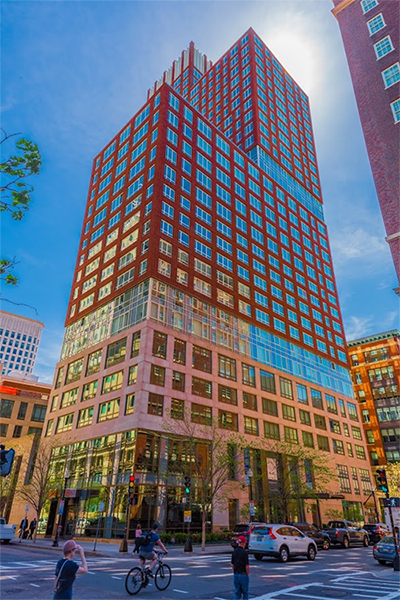 Get the Help You Need
When you enlist the help of Boston City Properties during your search for luxury apartments in greater Boston, you tap into one of the most extensive real estate databases for the region on the Internet. User friendly and intuitive, it allows you to filter your results based on things like square footage, price range and whether or not pets are allowed. With a few clicks of the mouse button, you'll be able to see which developments have vacancies that suit your requirements.
If you need more information about any luxury apartments in Boston, just give us a call. We have agents in every neighborhood who can assist you further in your search.
Search By Neighborhood
With one of the most active luxury apartment rental markets in the nation, Boston poses many challenges for those who want to call one of these upscale units home. Over the last handful of years, construction of new luxury apartment units has exploded across the city. While it has been most prominent in areas like downtown and the Seaport, it has been happening to some degree in nearly all neighborhoods. Despite what you'd assume to be a glut of new luxury units, however, securing an apartment of this caliber can be a tall order. That's why it pays to connect with Boston City Properties.
Most people know us as experts regarding Boston real estate for sale. However, the very same resources that make such a difference when buying property are also available when renting. Indeed, our vast online database of searchable listings includes up-to-the-second availability for every luxury development in the city—and even in outlying areas. With a few clicks of the mouse button, you can zero in on luxury apartments in your desired neighborhood that closely meet your criteria. The best part of all is that we will give you access for free; just sign up to search using the simple form.
Once you have access to our searchable listings, finding suitable luxury apartments in neighborhoods ranging from Back Bay to Southie will be a true breeze. In no time, you will have a short list of promising options to consider. When you are ready to go and take a look, contact Boston City Properties. We will give you a referral to an experienced real estate expert in that neighborhood who can assist you from there. From lining up tours of properties on your list to helping you through lease signing, your agent is sure to make a huge difference.
About the Boston Luxury Apartment Market
If you haven't been paying attention to news regarding Boston's luxury apartment market in recent years, you are in for some pretty big surprises. Not that long ago, the city had what most would consider to be a fairly minimal inventory of such properties. With the recovery of the housing market and the economy, however, demand for luxury apartments soared. New luxury developments across the city went to war trying to one-up each other with more and more lavish amenities and services. These days, renters expect a whole lot from their luxury apartments—and rightly so.
Explosion in new construction - One of the hottest trends regarding Boston's luxury apartment market in recent years has been an explosion in new construction. In fact, over the last six years, Boston has been ranked fifth nationally in terms of inventory growth for luxury apartment housing. Most of the activity has been happening in hot neighborhoods like the Financial District, the Seaport District and the Waterfront, but noticeable upticks have been happening in virtually all parts of the city. This trend is expected to continue into 2018, but it might be that new inventory growth will gradually slow down as the year progresses.
Workforce housing – As fears grow that ever-increasing rent prices are going to push lower income people out of Boston entirely, many luxury developments are not only including affordable housing but so-called workforce housing too. Considered a middle ground between affordable housing, which is for low-income people, and prevailing rents for luxury units, workforce housing has the benefit of offering much more affordable rents. Another advantage is that income requirements tend to be much laxer, allowing people who wouldn't otherwise be able to seek units in such buildings to do so.
Landlord concessions – For the last several years, landlords and property management companies have had it good—especially in the luxury apartment market. They have piled on the included amenities and services, to be certain, but many properties once nickel-and-dimed people for various upgrades. As inventory levels increase, landlords are having to do more to entice renters. Many buildings and developments are doing away with miscellaneous charges. Another way to lure tenants is to offer more flexible lease terms, and many developments have been on that bandwagon for some time. Expect this trend to intensify during 2018, as the market is expected to slow down.
Rent prices may plateau or drop – There's no doubt about it: Rents are high in Boston in general, and they are downright astronomical for luxury apartments in particularly in-demand properties. Most recently, Boston was ranked fifth in the nation in terms of the average cost to rent a one-bedroom apartment; it was ranked sixth for renting two-bedroom apartments. As hundreds of new luxury apartment units hit the market in the next year or two, it is expected that rent prices will begin to level off a bit as landlords struggle to fill properties. If the inventory glut is too much, prices may even drop a bit.
Even if rent prices drop in Boston this year, however, don't expect to find any truly rock-bottom deals any time soon. Most recently, the average monthly rent in the city for a one-bedroom apartment was around $2,250. The average rent for a two-bedroom unit, meanwhile, was around $2,700 per month. Thanks to Boston City Properties' convenient search tool, you can input your preferences for things like price and location to more quickly zero in on units that suit your needs. With our help, you will be signing a lease on a new luxury apartment before you know it.
Search Specific Boston Neighborhoods for Luxury Apartment Rentals
When you sign up for free access to our continually updated real estate listings, you gain access to an array of powerful tools. Our search tool, in particular, makes it a snap to pinpoint suitable options. One of the best things about it is that you can select specific neighborhoods in the city of Boston on which to focus your search. From there, you can adjust filters for things like average price per month, total square footage and total number of bedrooms and bathrooms to get even more relevant results.
To give you an idea about how the luxury apartment market varies from area to area, here's a snapshot of what to expect in some of the top areas in the city:
Back Bay – As one of the most prestigious and upscale neighborhoods in Boston, Back Bay is home to some of its most luxurious apartment buildings and developments. While the neighborhood is best known for its row upon row of brownstone Victorian homes, it boasts a thoroughly modern side as well that includes many soaring luxury apartment towers. Boston City Properties can refer you to an agent in Back Bay who knows its luxury rental market well.
Financial District – With some of the most prestigious luxury apartment towers in the city, the Financial District is a prime place to seek such properties. Like many, you may already have a specific building or development in mind. On the other hand, you may have decided on this neighborhood but aren't certain where exactly to look. Regardless, you can select Financial District while performing a search to limit it there. That way, your results—which can be further refined using convenient filters—will be that much more useful to you.
Seaport District – If you could only name one neighborhood that has truly exploded in Boston, it would hands-down have to be the Seaport. You'd be hard-pressed not to find a real estate expert who isn't aware of the many luxury developments that have already gone up in this part of the city. Construction here continues at a rapid clip as well, and many highly anticipated new developments are in the pipeline. If you are looking to rent a luxury home in a mixed-use development, in particular, this is a great place to look—and our team is here to help.
Dorchester – In addition to being the largest neighborhood in the city, Dorchester long had a reputation for being more of a working-class area. That has changed dramatically of late, and the once-humble neighborhood is home to an increasingly impressive number of luxury apartment buildings. Because this isn't considered to be a "hot" neighborhood just yet, however, rental prices tend to be a bit more subdued. This has produced a mad dash by many to snag luxury apartments here for less. If you want to rent a luxury apartment in this neighborhood, it's smart to act quickly.
Cambridge – While not a neighborhood of Boston, this neighboring city is largely considered one due to its intimate ties with Beantown. Located right across the Charles River and home to MIT and Harvard, among many other world-renowned institutes of higher learning, Cambridge's rental market has emerged as one of the hottest in the area in recent years. Whether you need to be close to one of the schools, to the Longwood Medical Area or elsewhere, Boston City Properties can connect you with resources that will make your search for Cambridge luxury apartments as easy as can be.
Top Features to Look for in Boston Luxury Apartment Units
When it comes to finding luxury apartments that truly offer the best, you have it good in Boston. As mentioned before, competition among luxury apartment developments has prompted a huge surge in the kinds of extras that are included. While people often focus a lot on the amenities and services that are offered by the development itself, it is just as important to look closely at the kinds of features that are included in the units for rent. Familiarize yourself with the most common and in-demand features to ensure that you get what you want and need:
In-unit washer and dryer – If you're going to splurge and rent a luxury apartment, make sure that it includes an in-unit washer and dryer. In this market, the vast majority of newer developments may still offer laundry rooms, but most of them are pretty bare bones because units include these machines. If you are used to having to pay to do your laundry, you will quickly notice what a savings it is to be able to do it right at home. When investigating apartments, ask about the washer and dryer that are included, including its brand and overall functionality.
Balconies and terraces – Like many who seek out luxury Boston apartments, you may be after the best of the best. Most city dwellers have to make do with owning no outdoor space, but if you select the right development in the city, you can snag a unit with a terrace or balcony. It should be noted that while many units lack these extras, most developments in the city include outdoor elements like courtyards, walkways and even parks and playgrounds. Of course, being able to step right out onto your balcony or terrace lends itself a bit more to privacy. Boston City Properties can connect you with an agent who can help you find a luxury apartment with the balcony or terrace of your dreams.
Views – Some of the finest luxury units in the city are located on high floors of some of the tallest buildings in Boston. Not surprisingly, these buildings include units that offer truly jaw-dropping views of the city and surrounding areas. Floor-to-ceiling windows are fixtures in luxury homes across the city, and they lend units more spacious feels. Listings in our database include details about units, including whether they offer views or have floor-to-ceiling windows.
Access – Regardless of where a development is located in the city, security is a natural and top concern for renters. While the majority of apartment buildings in the city, including recently built ones, only offer interior access to units—i.e., you must enter through a lobby and proceed down a hallway to your unit—some offer private entry, in which the front door opens to the outside. In either case, most luxury buildings offer controlled access to the premises as well as individual units, ensuring optimal security for tenants. Some even have video systems that let you see who is buzzing your door.
Gourmet kitchens – You would be hard-pressed to find a listing for a luxury apartment in Boston that doesn't include what is described as a "gourmet kitchen." However, as any of the agents to whom we can refer you can attest, just because something is described as gourmet doesn't mean that it really is. When you search our database, you'll get listings that include in-depth descriptions of these units—including specifically what is included in their gourmet kitchens. At the very least, these kitchens should include stone counters, high-end appliances and impeccable flooring.
Top-notch finishes and details – Unfortunately, just because a development is marketed as offering "luxury apartments" doesn't mean that those units are well-built or nicely designed. If you're going to devote a huge part of your income on renting an upscale unit, make certain that you get what you're paying for. Listings should go into in-depth detail regarding the finishes and touches that are included in each unit. However, if you have questions about any unit that you find in our database, just give Boston City Properties a call. We can get answers for you, or we can refer you to a local real estate expert who can.
Top Services and Amenities to Look for in Boston Luxury Developments
When searching Boston City Properties' listings for luxury apartments, your first stop will be closely investigating specific units in buildings around the city. It's generally best to seek out specific units that suit your needs first and to then narrow things down more based on the property in general. As you will quickly learn, most luxury apartment developments and buildings offer many of the same upscale services and amenities. By familiarizing yourself with the most ubiquitous ones, you can ensure that you get exactly what you need—and for a fair price:
On-site services – People sometimes liken luxury apartment living to living full-time in an upscale hotel. That is certainly the case with certain developments, but the vast majority are a bit more practical. Still, their offerings can be considerable. Most developments offer 24-hour concierge services, so you can always get help when you need it. Maintenance is usually available around the clock too. Many developments and buildings offer extras like maid services, dry cleaning and even babysitting and pet boarding. If you're looking for a building that makes life as easy for you as possible, you are sure to find it in our listings.
Fitness amenities – If you're going to pay luxury rental prices, you shouldn't have to also pay for a pricey gym membership. The best luxury buildings in the city include more than just bare-bones fitness rooms with a smattering of sorry-looking equipment. Rather, they have full-fledged fitness centers loaded with state-of-the-art cardio and strength-training equipment. Some also serve as gyms that outsiders can join, but most are private. Depending on where you rent, you may also enjoy access to a yoga or Pilates studio or be able to take in amazing views of the city while sweating it out on the elliptical.
Rooftop touches – In the old days, the best apartment buildings had indoor lounges where residents could kick back or entertain. Things have changed a lot. These days, luxury apartment tenants expect access to high-end common areas. In particular, these developments almost always include at least one rooftop element, whether it is a rooftop lounge, terrace or pool. Of course, the most popular buildings are the ones that soar high into the sky, so their rooftop amenities are even more exciting. Either way, though, having access to a nice outdoor area while paying top-dollar for rent is a good perk.
Flexible leases – The modern economy is increasingly causing workers to have to uproot themselves on a fairly regular basis. As a result, many renters aren't interested in being tied down to extremely long leases. Some just need housing for part of the year, for example. Others will happily sign longer leases in exchange for lower prices. Either way, Boston's luxury apartment market has increasingly turned toward flexible leases. If you need one, then, you can take your pick from plenty of options. We'll refer you to an agent who can point you in the right direction.
Parking – Ideally in a big city like Boston, you don't own a car at all. Plenty of people rely on them and need them, though. If you absolutely must have a car in the city, pay special attention to the parking services that are offered by luxury developments. Although rare, some lack any official on-site parking at all. More commonly, these developments piggyback off of parking structures in the city and then charge extra to lease parking spaces. Parking spaces are sometimes included, however. In some developments, you can even choose from street parking, parking lot parking, parking structure parking or below-ground parking.
Pets – It's natural to feel even more anxious about finding a suitable place to rent when you own a pet. If you are the proud owner of a furry, four-legged friend like a cat or dog, you are in luck. The vast majority of luxury apartment buildings in Boston are very friendly and accommodating toward pets. However, you typically have to agree to pay additional pet rent, and an additional deposit is usually required. Some developments simply allow a certain number of pets; others offer huge array of pet friendly amenities, including grooming and boarding services.
Bicycles – In Boston when the weather is okay, jumping on a bike is often the easiest way to get around. Most luxury developments make special accommodations for cyclists, as so many use this as way to get to and from school or work. You can expect to find things like secure on-site bike parking, so you don't have to worry about where to store your bike. Many buildings include repair stations and cleaning stations for bicycles too. With the help of an agent, you can identify luxury buildings with close access to some of the best bike trails in the area.
Furnished units – What if you arrive in the city without any furniture to speak of? Whether you are just starting out or tend to move so often that you don't want to acquire too many things, you have plenty of options in the Boston luxury apartment market. That's because most luxury developments offer furnished apartments, and you can sometimes even select specific types of décor and whatnot. Naturally, you will pay more to rent a furnished unit. However, when you are ready to move, you will avoid the hassle of packing it all up and moving it.
Zipcars – Finally, if you're one of those people who generally get by without a car but who sometimes needs one, you'll be glad to know that many luxury apartment buildings in Boston offer easy access to Zipcars and related options. Many times, Zipcars are available right in the parking garage, so you can grab one easily whenever you'd like. Some developments also have concierges who can arrange transportation services for you, including calling cabs and services like Uber. When it comes to getting around the city, you have it made when you rent a place in a luxury building.
Top Benefits of Renting Luxury Apartments in Boston
Given how much pricier they are, it stands to reason that you may be a bit on the fence about splurging and renting a luxury apartment in Boston. After all, could it possibly be worth spending that much more each month just to put a roof over your head? As you can see above, of course, these kinds of units offer far more than the basics. Some of the benefits are quite tangible, and others aren't quite as much. Here are some of the top advantages of renting luxury apartments in Boston:
Prime location – As a general rule, the best luxury buildings and developments are located in very central locations within their specific neighborhoods. Of course, most buildings like these are highly concentrated in a handful of core Boston neighborhoods, including Back Bay and Downtown. When you rent a unit in a luxury development, you should be able to step out the front door and quickly access a wide array of services. Your building should also offer easy access to public transportation. In some cases, as with mixed-used developments, most of the services that you need can even be found right on your own block.
Impeccable amenities – Now that you have gone down the list of the top amenities offered by Boston luxury apartment buildings, you should have an idea about what to expect. Until you are actually living amidst such extras, though, it's hard to appreciate what a difference they can make. For example, having on-site access to a full-fledged fitness center makes it far easier to stick with your workout routine, as you don't even need to leave the building to do it. If you own a vehicle, parking amenities alone can more than justify the extra rent.
Energy-efficient designs – Though you are certain to pay at least prevailing market rate to rent a luxury apartment anywhere in Boston, you should be able to save a little on utilities. Most buildings include water in the monthly rent, but gas and electric are often yours to deal with. Newly built luxury developments are designed according to the best energy efficiency standards. Many are even LEED-certified, which means that they meet a variety of very demanding requirements. Additionally, units in these buildings typically have ENERGY STAR rated appliances that use far less energy. In addition to saving money, you can do your part to use less energy.
Convenient parking – If you don't own a car, you aren't going to care about this at all. If you do, though, odds are that you are going to be blown away by the great parking amenities that are offered by top Boston luxury apartment developments. When you rent many units, one parking space is included. Sometimes it's above ground in a street-level parking lot; other times it is below ground in a parking garage. When you rent other units, however, parking is extra. You will find, however, that leasing a space like this is much cheaper than parking it elsewhere.
Superior TV and internet options - If you have ever rented an apartment that lacked decent cable or internet access, you know how frustrating it can be. The best luxury developments go out of their way to offer as many options as possible when it comes to these kinds of things, so you should be able to get what you need. Many properties include free Wi-Fi connectivity in public areas, which is a very nice perk. Contact Boston City Properties to learn more about how these kinds of services vary at developments across the city.
More peace and quiet – Because luxury apartment buildings tend to be more modern and far more well-built, they also tend to have thicker walls that muffle all but the loudest of noises. You should be able to find a unit to your liking that won't expose you to loud, annoying sounds throughout the day or night. Units on higher floors are even less likely to be subjected to the thrum of street traffic, and enhanced security features like controlled building access mean less foot traffic inside too. All told, you will find far more serenity in a place like this.
First-rate security – Finally, anyone who rents a place in the city is sure to have security in the back of their minds at all times. While these buildings are typically located in very safe parts of the city, you can never be too careful. Luxury apartment developments tend to go out of their way to keep residents safe and secure. They do this not only through building-wide security technologies but through in-unit security features as well. Most developments offer 24-hour security too, and some have doormen who serve as another layer of security between residents and the outside world.
How Boston City Properties Can Help
At this point, you should have a pretty clear idea about what to expect among luxury apartments in the city of Boston. Whether you are looking for luxury apartment rentals in the Seaport, Downtown, Back Bay, Cambridge or elsewhere in or around the city, your first stop should be signing up with Boston City Properties. Just complete the easy form, and you will be all set. Click right over to the search tool to begin. In no time, you will be on your way to finding the perfect luxury apartment in the neighborhood of your choice.
Our search tool makes it a snap to zero in on luxury apartments that suit your needs and budget. First, you can select the specific Boston neighborhood where you are looking to limit your search there. Note that if you would like, you can select multiple neighborhoods. If you want to look in both Chelsea and Charlestown, for example, just select each one. When you perform you search, your results will be limited to properties that are located in your defined geographical search area. Right away, you will be on the right track.
Next, use search filters to refine your results further. After all, you're not interested in every luxury unit in a certain neighborhood; you are interested in one that meets specific criteria. In this case, you can adjust filters for price range, total square footage and total number of bedrooms and bathrooms to narrow things down quickly and easily. When you click the search button, you will only see apartments that are available for rent in your desired areas—and they will roughly fall within your required parameters. Rather than have a huge unwieldy list to contend with, you'll have a short, more manageable one.
As you read listings, you will gain valuable insights into what is included with various properties. Listings include in-depth descriptions of the units themselves, of course, including total square footage and number of beds and baths. Sometimes, they include floor plans, so you can get a better feel for the layout. Many listings even include virtual tours, so you can walk through apartments virtually from the comfort of home. With all of this info at your fingertips, you will be able to zero in on suitable options in no time flat.
Finally, after poring over listings and photos of luxury apartments on your list, you should be ready to go and take a look in person. When you are, call Boston City Properties. We will refer you to an experienced real estate expert in your desired neighborhood who knows its luxury rental market well. This agent will be familiar with the top luxury apartment buildings, and they can arrange tours of properties on your list. Later, they can guide you through the leasing process and ensure that everything goes smoothly. For more information regarding Boston luxury apartment rentals, call Boston City Properties today.
Click Here
to Search
sales
Click Here
to Search
rentals