Identify Back Bay Development Opportunities with Boston City Properties
With its eclectic mix of high-end residential real estate, soaring office towers and in-demand commercial corridors, Boston's Back Bay presents many exciting opportunities for investors and developers alike. If you're interested in land development opportunities in this truly one-of-a-kind neighborhood, you're going to want all the help you can get; to that end, you can't go wrong with Boston City Properties.
Click Here to Search
commercial properties
Our insider connections and area expertise make us uniquely capable of providing unparalleled assistance to those seeking the best real estate development opportunities. As a Boston commercial real estate leader, we can provide you with exciting on- and off-market listings for developable land in this fast-paced, highly lucrative submarket.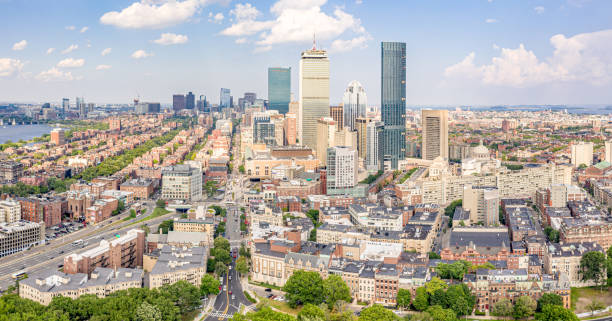 Why Back Bay?
You'd be hard-pressed to find anyone with the slightest familiarity of Boston commercial real estate who isn't aware of the perennially white-hot Back Bay submarket. Virtually since the neighborhood was created, reclaimed from the bay's waters, it's attracted real estate developers and investors from far and wide. Bursting with historically and architecturally significant buildings, Back Bay, more importantly, boasts dynamic residential and commercial real estate markets, creating countless opportunities for savvy brokers, developers and investors.
Back Bay Commercial Real Estate Land Development Opportunities
Although initially designed as a residential area, Back Bay quickly gained a strong foothold as a shopping destination starting around the end of the 19th century. Although many of its famed Victorian brownstones remain residential, a significant number now serve as offices, shops and other commercial establishments.
The neighborhood is brimming with prime office space, with much of it spread across soaring skyscrapers featuring some of the most in-demand commercial space in the city. The tallest building in Boston, the John Hancock Tower, is found here, and it's joined by more than 70 other office buildings spanning more than 15 million square feet of space.
As a prime shopping destination, Back Bay is also home to some of the hottest retail space in the city, including many converted Victorian brownstones along Newbury and Boylston Streets and major shopping centers at Prudential Center and Copley Place. Some of the hottest hotels in Boston are located here too, including the Mandarin Oriental, The Lenox and Fairmont Copley Plaza.
What does this mean for those seeking land development opportunities in Back Bay? For one thing, virtually all of the land here has been developed and even redeveloped countless times. Its very scarcity makes it a hot commodity, which can make acquiring it seem like an uphill battle – especially for those without insider connections.
However, this also means that those who are willing to put in the time and effort to find and acquire developable land in Back Bay stand to enjoy incredible returns on their investments. The trick to finding what you need lies in connecting with the right resources, and Boston City Properties has you covered in that department.
Residential Land Development Opportunities in Back Bay, Boston
Residential real estate is also in sky-high demand across Back Bay, making the acquisition of parcels that can be developed or redeveloped into residential properties an incredibly smart move. Median sales prices for condos and other properties in this white-hot market regularly – and easily – exceed $1.3 million. Asking rents in Back Bay are also typically among the highest in the area, with the average rent for a one-bedroom unit well above the average for Greater Boston.
How Boston City Properties Can Help
It shouldn't take much to sell anyone on the incredible promise of investing in developable lots in Back Bay. However, making it happen is a whole other story. By connecting with BCP, you gain access to a vast array of resources, connections and services that give you a crucial upper hand in the equation. Here are just a few ways in which our team can help you navigate this electrifying Boston submarket:
On- and Off-Market Listings – Our team maintains one of the most comprehensive online databases of searchable Boston commercial real estate listings around. You can gain access right away and for free by signing up with us now. In a heartbeat, you can check current availability for parcels and lots across the neighborhood. More excitingly, we are continually abreast of prime opportunities that are never publicly listed. Tap into these off-market development opportunities by connecting with us today.
Skilled Brokers and Agents – Boston City Properties has connections with skilled and experienced Back Bay real estate brokers, agents and other professionals. Just tell us what you need, and we can reach out to our network to help you find the best opportunities. Whatever your goals may be, our team is sure to make a massive difference in your search.
Area Expertise and Insider Knowledge – BCP knows Back Bay and its commercial and residential submarkets like the back of our hand. Our network is made up of agents, brokers and others who are tapped into the constantly evolving beat of the local market. From zoning requirements to information about setbacks and more, they can assist you in identifying parcels and lots that are suitable for development opportunities of all kinds.
Identify Development Opportunities Across All Niches
Whether you're seeking developable land in Back Bay for a new hotel, a mixed-use development, a luxury condo high-rise or a gleaming new office tower, the team at BCP is well-versed regarding all of these sectors and more. More importantly, we can help you navigate the highly competitive and fast-paced local market, giving you the extra boost you need to achieve your goals more easily. Securing land for development in a market like Back Bay may seem far-fetched, but it's within reach when you team up with us.
Contact Us Today to Get Started
Let's face it: Although developable land in Back Bay is sparse, it's out there. If you don't get it, someone else will. There's never a bad time to explore prime development opportunities in this exciting Boston neighborhood, and we're always here and ready to help. Contact us today for more information!