Amazon's Expansion into Boston Continues with 18-Story Office Lease at Seaport Square
Posted By: Boston City Properties
As more than a dozen U.S. cities anxiously await Amazon's decision regarding where its second headquarters will be located, one of those contenders is already watching the e-commerce giant gain a larger and larger foothold in the local area. While the city of Boston is surely more concerned with becoming the new site of the online retailer's massive new headquarters, it isn't turning up its nose at the company's continued interest and investment in the city. This was made perfectly clear in remarks by Mayor Marty Walsh following the BPDA's approval of the upcoming Seaport Square development, which will include at least one 18-story building that will be 100-percent leased by Amazon.
In documents that it filed with the Boston Planning and Development Authority in late February 2018, WS Development, the development company that is behind the massive Seaport Square project, confirmed that Amazon is looking to lease anywhere from 500,000 to 1 million square feet of office space in the Seaport District. This ends speculation regarding what the internet retailer is up to in this burgeoning part of the city because the filing reveals exactly what it plans to do with space in the new development.
No matter how this shakes out, one thing is clear: Mayor Walsh and the city council are firmly in Amazon's corner, and they are willing to do what it takes to secure the thousands of high-paying tech jobs that hang in the balance. Of course, the mayor and his team may inadvertently be cheering for a project that will ultimately ruin the city's chances of securing the really big prize: Amazon's second headquarters, which would literally create tens of thousands of jobs that pay at least $100,000 per year.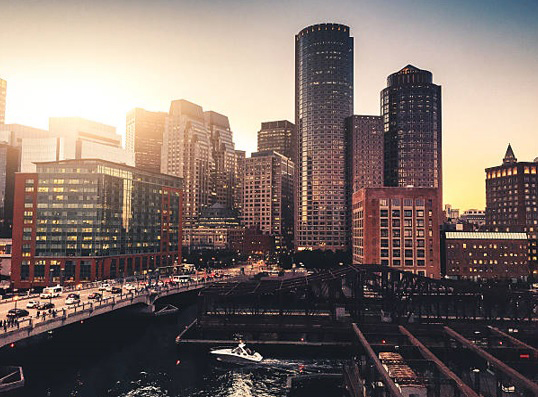 One only needs to look at the filing that was made by WP Development with the BPDA to see why the Seaport Square deal was so irresistible. Initially, Amazon has committed to leasing the 430,000-square-foot, 18-story Block L4 building, as it is currently known, which is just one of several that will ultimately be located at the massive new development. The internet giant has already established a deal with the city whereby it will receive a $5 million tax break upon creating 2,000 new jobs within a 25-mile radius of Boston. With the leasing of the new building, the company handily meets this first condition.
More advantages are on the table for Amazon should it seek to expand further in the city. As a condition of signing the lease for the first 18-story building at Seaport Square, the e-commerce company also reserved the right to expand into the neighboring Block L5 building, which offers an additional 610,000 square feet of space. Should that expansion occur, the company will add another 2,000 jobs to greater Boston—and it will secure another $5-million tax break, bringing the total to $10 million in tax savings. Of course, all of this is happening whether or not the company decides to make Boston the site of its second headquarters, and it will be some time still before we find out which city emerges victorious in that search.
The advantages of expanding Amazon's presence in the city of Boston can't be overstated. The internet retail behemoth captured a whopping 44 percent of all retail activity in the United States in 2017, so it has undoubtedly grown much larger than its original headquarters in Seattle, Washington, were designed to handle. It has slowly but surely been expanding its presence in cities across the U.S., including Austin, Atlanta and Manhattan, and it has already established a strong and growing presence in Boston. The city is a natural choice for a tech-centric company like Amazon, with its highly educated workforce and burgeoning technology and startup sectors. The question, of course, is whether it is the right choice for a headquarters that will employ more than 50,000 people.
Amazon's love affair with Boston started several years ago, and the company already employs around 1,200 people around the metro area. Some of the most notable developments concerning Amazon and Boston lately include:
Cambridge – Amazon's first major move into the city happened in 2012, when it acquired space at 101 Main Street at Kendall Square in Cambridge. That office has remained open since, and it currently employs around 700 people. With its proximity to MIT and many other institutes of higher learning, it makes sense that Amazon selected this site at the time, and the site will continue to be a logical choice for the foreseeable future.
Back Bay – The internet giant also leases significant amounts of space at a WeWork location in Back Bay. The Back Bay space currently employs around 200 people, bringing the total number of people who are currently employed by Amazon in Boston to around 900. In one fell swoop, the Seaport Square deal will nearly triple that figure.
Fort Point – This isn't the first big news we've had about Amazon setting its sights on Boston's blossoming Seaport District. Last summer, the company announced that it will be leasing around 150,000 square feet of space at 253 Summer Street in the district's popular Fort Point neighborhood. In so doing, Amazon will hire an additional 900 people. The Fort Point office space can be expanded up to 500,000 square feet, which many have seen as a sign that the company is indeed planning to choose Boston for its second headquarters, or HQ2. That's because Amazon stated a while back that the first phase of its new headquarters will call for around 500,000 square feet of space to be open and available by 2019.
About Seaport Square
With confirmation that Amazon will set up shop at Seaport Square, initially leasing around 430,000 square feet across 18 stories and potentially ending up with an additional 610,000 square feet in an adjacent building, it's easy to assume that the internet giant will be the only game in town, so to speak. However, the Seaport Square development is truly massive; in fact, it is currently the largest development of its kind in the city of Boston.
Proposals for a development at what would become Seaport Square were first floated around in 2010. However, plans evolved and grew dramatically, so the project wasn't officially approved by the BPDA until November 2017. The development will offer more than 7.6 million square feet of mixed-use construction, including office, retail and residential space. Amazon, of course, may end up with upwards of 1 million square feet of that space; employees will have nearby housing to buy or rent if they choose, which is a major boon.
How Will Seaport Square Affect Boston's Odds for HQ2?
If Boston wasn't already one of just 17 named finalists in Amazon's quest for a location for its second headquarters, the Seaport Square news would be especially exciting. However, many experts are looking at the move as something of a mixed bag. Technically, greater Boston holds two finalist spots; neighboring Somerville is also vying for the honor. Given that the retailer has now committed to adding upwards of 4,000 new jobs to the city over the next handful of years, some believe that Amazon has already crossed metro Boston off of its list—unofficially, at least.
Still, the leasing of the Seaport Square space could also be seen as a sign that Amazon is simply beginning its big move a little early. However, if that was the case, why would Amazon hold off on leasing the full 500,000 square feet of space that's being ponied up over at Fort Point? It might be that the Seaport Square move is a sort of consolation prize being tossed to the city by Amazon because the company already knows that it's not going to select Boston for HQ2. As tight-lipped as the Amazon team has been about the entire process, however, there's just no way of knowing.
Another complicating factor is that Somerville is also hoping to win over Amazon with space at Assembly Row, North Station or one of its other massive new mixed-use developments. Unfortunately, this has caused the two communities to compete against one another for Amazon's big prize. Many fear that unnecessary competition between Somerville and Boston could cause both cities to lose sight of what really matters: Showing Amazon why the local area is more deserving than other locales, including many that are also located in the Eastern Time Zone.
The Battle for HQ2 Thus Far
If you live in metro Boston, you are already probably familiar with Amazon's ongoing quest for a new, second headquarters somewhere within the United States. The company started the process in earnest in September 2017, and it is expected to continue for the foreseeable future. So far, Amazon has been tight-lipped about how it is assessing the 17 named finalists, but it has stated that it is focusing on local talent pools and on the viability of prospective sites for its new headquarters.
The city was abuzz with excitement with the news that it had made the cut and would be seriously considered as a potential site for Amazon's second headquarters; the fact that Somerville also made the list was just icing on the cake. The company's current headquarters are and always have been located in Seattle, and it appears that the retailer is leaning toward the east coast for its second headquarters. The majority of the finalists, such as Philadelphia, New York City, Washington, D.C. and Newark, are located in the Eastern Time Zone, which is a pretty big clue. Other finalists include Austin, Denver, Los Angeles, Raleigh and Dallas.
Boston's Odds: A Mixed Bag
To understand how likely it is that Amazon will select Boston over the other 16 finalist cities, it helps to know what the internet behemoth is looking for in a second headquarters. The company has stated that it wants an urban campus in a metro area with good, affordable housing inventory. Due to the tech-centric nature of the work that needs to be done, the company's headquarters need to be close to viable talent pools that are made up of highly educated people. It has specifically stated that it wants its headquarters to be in a city of 1 million people or more—and the city should be stable and business friendly.
Knowing this, how likely is it that Boston will make the cut? Amazon has already signaled its general approval of the city with the moves that it has already made; the Seaport Square development is yet another endorsement in many people's eyes. On the plus side, Boston has a highly educated workforce due to its status as one of the main hubs for higher education in the U.S. The population of the city far exceeds the company's stated needs, and the local economy has become more and more tech-centric over the last several years.
The outlook isn't completely rosy, however, because Boston suffers from one major downside: a serious shortage of affordable housing. In fact, housing in general is difficult to come by both within the city's neighborhoods and in metro Boston communities like Somerville and Cambridge. Mayor Walsh and his team have been working on initiatives to ease this problem for some time; for example, he is championing an effort to add 53,000 housing units to the city by the year 2030. Things are progressing so well that the target goal is expected to be increased soon. At the same time, Massachusetts Governor Charlie Baker has committed to helping to add 135,000 housing units across the Bay State within the next eight years. These efforts are all worthwhile, but they may end up being too little, too late for Amazon's needs.
Will Suffolk Downs Be Amazon's Next Headquarters?
While Amazon's big move into the Seaport District is happy news for the city, people are much more concerned about earning the coveted distinction of being the location of the massive internet retailer's second world headquarters. The best that Boston felt that it could offer, Suffolk Downs, doesn't quite hit the mark in terms of Amazon's stated goals. The company wants its second headquarters to preferably be on an "urban campus," close to mass transit and within walking distance of goods, services and housing. With its location on the border of Boston and Revere, however, Suffolk Downs doesn't quite hit the mark.
The 161-acre site, which is owned by HYM Investment Group, will be redeveloped into a massive mixed-use development soon with or without the addition of Amazon's second headquarters. However, the developer is on board with the city in trying to attract Amazon and has therefore redeveloped its plans for the site to include two possible paths. Either way, the site will offer 16.5 million square feet of combined residential, hotel, lab, retail and office space that will be developed over the next 20 years. 11 million square feet will be located in Boston while 5.5 million square feet will be located in Revere.
If Amazon elects to make Boston the site of its second headquarters, Suffolk Downs will devote 8 million square feet of the development to office space. The mixed-use site will also include around 550,000 square feet of retail space, around 830 hotel rooms and roughly 7,500 residential units.
If Amazon chooses another city for its second headquarters, Suffolk Downs will be developed to include 10,000 residential units, which are sorely needed in the city anyway. It will also offer around 450,000 square feet of retail space, around 5.25 million square feet of office space and approximately 670 hotel rooms.
Amazon and Boston: What it Means for Real Estate in the City
Whether you currently live and work in Boston and just like keeping track of the current real estate market or if you are thinking about moving to the city and want to know what to expect, there's no question that Amazon has already had a huge impact on the local economy. Whether Boston ends up securing the HQ2 deal or not, Amazon has officially committed to adding upwards of 4,000 more jobs to the local area by the year 2025. If the deal happens, an additional 50,000 high-paying jobs will pour into the city.
Without a doubt, Amazon's expansion into the city will affect its real estate market for the foreseeable future. Whether the new headquarters happens here or not, the additional jobs that are already secured will help boom a booming economy here in Boston even more.
Click Here
to Search
sales
Click Here
to Search
rentals