The Graphic Lofts is a New Modular Housing Development Under Construction in Charlestown
Posted By: Boston City Properties
The Graphic Lofts is a new modular housing development currently under construction in Charlestown. Upon completion, it will hold the distinction of being the largest modular housing development in the city, and it is slated to become available to tenants in October. Each of the boxes that is being used for the new building weighs anywhere from 30,000 to 35,000 pounds, and it takes approximately 20 minutes to lift and position one into place. It is estimated that approximately 14 of these boxes can be positioned per day, and the work is currently underway. All told, this mid-rise building will offer 136,000 square feet of space.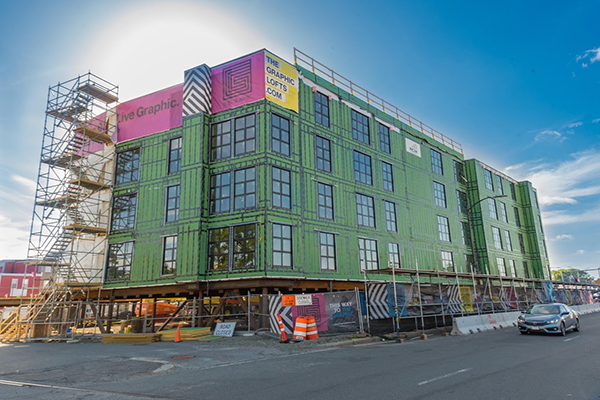 The project has been in the works for a while. The first rumblings about the development of a new mixed-use complex began in early 2015. That is when the longtime tenant of the existing building at 32 Cambridge Street, Graphic Arts Finishers, announced that it would be seeking a new home. The company stated that the existing building no longer served its needs. It didn't take long for developers to swoop in, and it comes as no surprise. This section of Charlestown is experiencing rapid growth, so the property is quite valuable.
In a nod to the site's former tenant, the mixed-use modular housing development will be called The Graphic. It will be composed of two buildings. One of them already exists, and it will be adapted to suit the needs of the project. The other is currently under construction; in fact, in early May, the first of 129 modular boxes arrived at the construction site. These are currently being stacked and positioned, and they will ultimately compose a four-story building that will contain 125 loft-style apartments and 97 parking spaces.
Plans also call for the redevelopment of the former Graphic Arts Finishers Building. The three-story building will boast around 50,000 square feet of space. It is expected to contain 46 loft-style apartments, which would bring the total number of apartments at the development to 171. The development will include a total of 113 parking spaces--a handful will be placed at street level--and 4,000 square feet of retail and restaurant space.
The existing building was designed in a way that was very conducive to loft-style designs, so developers knew early on that they would go in that direction. Apartments in both buildings will feature high ceilings and massive windows. Developers have also stated that these units will include sliding panel doors; in-unit washers and dryers; and efficient kitchens.
Residents of The Graphic will enjoy easy access to a wide array of amenities and services. The premises are expected to include a game room and a club room, which will serve as year-round gathering places. A fitness center with yoga facilities will allow residents to squeeze in workouts without having to visit pricey gyms. In keeping with current trends, the complex will also boast a rooftop deck offering views of the Boston skyline. There will also be a finely landscaped, sunny courtyard with outdoor grill stations and fire pits for the enjoyment of residents.
The two buildings are expected to be joined on the third story by a "glassy connector element," as described in the plans. With construction currently under way, developers believe that the first tenants should be able to move in sometime in October.
Given that the development will offer fewer than 200 units, it stands to reason that they will be snapped up quickly. Studios here are expected to run about $2,000 per month, one-bedroom units will range from $2,400 to $2,800 per month and three-bedroom units will cost upwards of $3,400 per month. If you are interested in renting a unit in this development when the time comes, sign up with Boston City Properties for current availability and more.