Find Land for Sale in Everett, MA
Big things are underway in Everett, MA, the mid-sized Middlesex County city bordering Boston's Charlestown neighborhood. Situated directly north of Beantown, Everett is in the midst of a major development boom. Since the opening of the new Encore Boston Harbor casino, the city has hit developers' and investors' radars in a big way. Therefore, competition for the best properties is positively cutthroat, and going it alone won't cut it. If you're looking for vacant land for sale in Everett, you're in good company. To access the best resources, information and assistance, connect with Boston City Properties.
Click Here to Search
Land for Sale
Your Source for Up-to-the-Second Boston Real Estate Information
Regardless of what you have in mind for the parcel that you acquire in Everett, you're going to need all the help you can get to achieve your goals. Procuring a developable lot with potential in this waterfront city is getting more difficult as developers look beyond Boston, Cambridge and other pricey, overly developed areas.
Considered by many to be the next Somerville, Everett is poised to become another life science hotspot. Boston City Properties, a Boston commercial real estate leader, can help you make the most of real estate opportunities in this rapidly growing city. We offer a vast online database of continually updated real estate listings and access to exciting off-market opportunities. Our team can also connect you with experienced and talented Everett real estate professionals who can assist you further.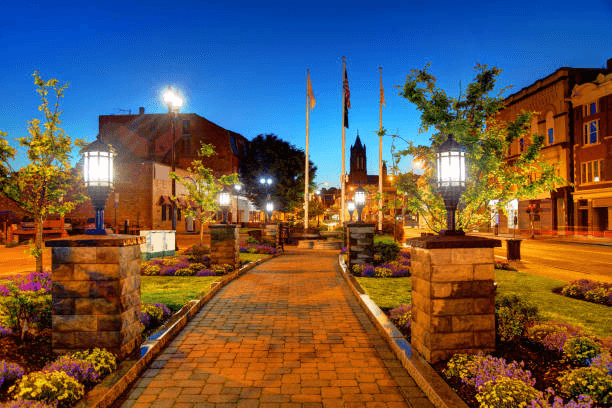 Everett Basics
Situated directly north of Boston and occupying an area of around 3.7 square miles, Everett was overwhelmingly industrial through much of its history. According to the 2020 U.S. Census, the population stands at just below 50,000 people. In the last decade, the population has soared, and it is continuing to grow every year. This trend is likely to continue for the foreseeable future as people seek more affordable alternatives to Boston, Somerville and Cambridge.
Neighborhoods and Districts
Everett is bordered by Boston's Charlestown neighborhood. It is also bordered by the communities of Chelsea, Revere, Somerville, Medford and Malden. Much of the city remains industrial, but several neighborhoods offer everything from mid-sized apartment and condo buildings to single-family homes. Popular residential neighborhoods include The Village, Glendale, Woodlawn and The Line. Everett Square, regarded as the center of it all, boasts several unique buildings, and several residential streets radiate out from there. The Lower Broadway corridor is the city's most in-demand residential area. Many new loft buildings and hip eateries have opened there in recent years. Throughout its entire length through the city, from Malden to Charlestown, Broadway has been undergoing more than $3 billion in new development.
Commercial Real Estate in Everett
Without question, the development and opening of Encore Boston Harbor breathed new life into commercial real estate across Everett. Along with the new casino building itself, the project brought a revitalized waterfront promenade to this formerly industrial section of the city. Many new retail establishments and restaurants have opened since then. The site is also close to Somerville's Assembly Row, another hotbed of commercial real estate activity. The city has many established retail corridors too, including Gateway Center Mall.
Things to Consider When Buying Developable Parcels in Everett
Everett often has many real estate opportunities for savvy investors and developers due to its sprawling geography and diverse, developing economy. If you want to buy a property here for development or redevelopment, connect with Boston City Properties right away to ensure smooth sailing. Along the way, keep these points in mind:
Have clear goals for the property that you acquire. That way, you can zero in on areas in the city with properties that are best suited for your goals. BCP can connect you with Everett real estate experts who can help considerably in this regard.
Research local submarkets. How likely are your plans for the property to succeed?
Beware of permitting and zoning restrictions. Many parcels are subject to strict zoning regulations, including building setbacks and historical district controls.
Perform due diligence before buying Everett real estate. Have the property inspected and surveyed, and check carefully into the property records to ensure that no liens or other issues are in the way.
Consider historical trends for any parcel that you consider buying. What other businesses have been developed there or on adjacent properties? How did they perform?
How Boston City Properties Can Help
At Boston City Properties, we know how challenging it can be to find and procure the right real estate for a development project. If you're looking for land for sale in Everett, connect with us to enjoy the following perks and more:
Local Expertise – We enjoy connections with major real estate players in Everett, including brokers, agents and property owners. Our insights into local submarkets are sure to come in handy for you as you search for the perfect option.
Agents and Brokers – BCP has skilled and experienced real estate brokers and agents across the city of Everett, including ones specializing in various niches and industries. We can connect you with a real estate expert whose guidance will make a positive difference for you from start to finish.
Real Estate Listings – By signing up through our website, you can search our online real estate listings this instant. You can check current availability for properties that meet your requirements in no time. We also have off-market listings for properties in Everett, and we can show them to you whenever you're ready.
Call Today to Find Everett Properties for Sale for Your Development Plans
Everett is poised to become the next real estate development hotspot in Greater Boston. When seeking properties for development in this emerging city, it pays to have access to effective help. Boston City Properties is here to provide it with on- and off-market listings, connections to experienced Everett real estate agents and brokers and unparalleled insider knowledge. We also offer an array of valuable resources for buying vacant parcels in the area, so contact us today for more information.
Click Here to Search
Land for Sale