Seeking Land for Sale in East Boston? Connect with Boston City Properties
East Boston is quickly emerging as Boston's latest real estate development hotspot, with several major new developments currently underway. If you're in the market to buy vacant parcels in Eastie, you're far from alone. Competition is fierce for the most promising parcels, so it's crucial to enlist the right help for your search. Boston City Properties, a Boston commercial real estate authority, is the name to trust in this regard. Our team can help you identify and acquire a property in East Boston that suits your requirements perfectly.
Click Here to Search
Land for Sale
Don't Go it Alone
Unless you are already a large, well-establishment brokerage or development firm, it's easy to get crowded out by the competition when seeking developable parcels in a white-hot real estate market like East Boston's. Luckily, you don't have to give up your investment or development goals. By connecting with Boston City Properties, you instantly gain access to a wealth of valuable resources. For instance, we maintain a vast online database of searchable Boston real estate listings, and we'll give you access right away when you sign up through our website. BCP also has talented and experienced real estate brokers and agents across Eastie, and we'll refer you to the right one whenever you're ready.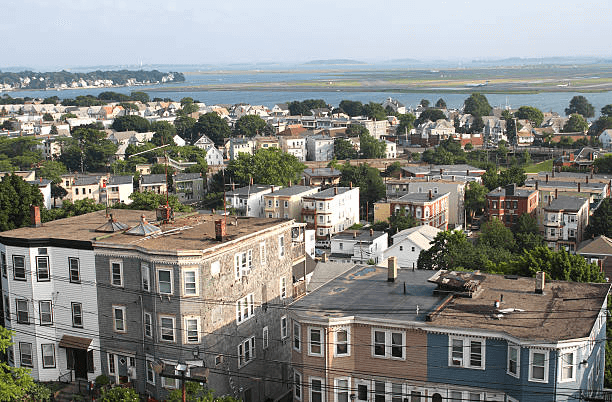 Neighborhood Basics
Home to Logan International Airport, East Boston is situated across Boston Harbor from Charlestown and downtown, and it shares borders with Revere and Winthrop. This neighborhood of approximately 45,000 boasts several MBTA stations offering service on the Blue Line, including Orient Heights, Wood Island, Airport, Maverick and Suffolk Downs. Water taxi service to Charlestown, the North End and the Seaport District is also readily available. Over the last few decades, efforts to free up green, open space across the area have been wildly successful, enhancing the neighborhood's desirability for residents of many walks of life.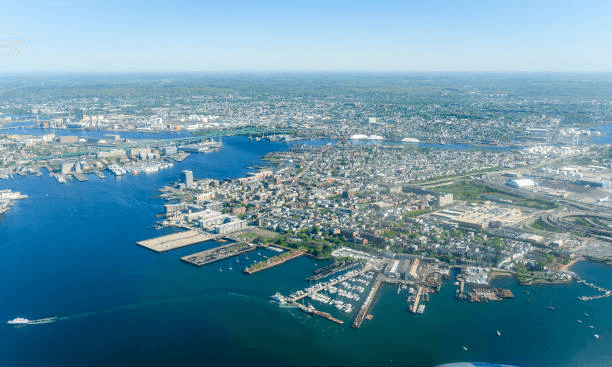 Neighborhoods and Districts
East Boston is located on a peninsula that was created by landfill operations. Previously, the area was made up of several small islands. Today, this reclaimed space is in increasingly strong demand, as evidenced by the massive Suffolk Downs redevelopment project. Major commercial districts in Eastie include Maverick Square, Central Square, Day Square and Orient Heights Square. Jeffries Point, next to the airport, is a waterfront district offering views of the Boston skyline and the Seaport. With its hilly terrain, Orient Heights affords excellent views of outlying areas and is also home to Constitution Beach.
Commercial Real Estate
With the BPDA approval of the massive Suffolk Downs redevelopment project, East Boston's commercial real estate market is hotter than ever. The new mixed-use neighborhood sprawls over an area of more than 160 acres. It will include two Blue Line stops, 10,000 housing units, hotels, office and lab space and more. Along with Charlestown, Eastie is home to five lab buildings offering 1.2 million square feet of space. The same area also includes 18 office buildings offering 1.9 million square feet. Demand for lab space continues to be strong across the region, which puts Eastie squarely on the map for future development in those areas.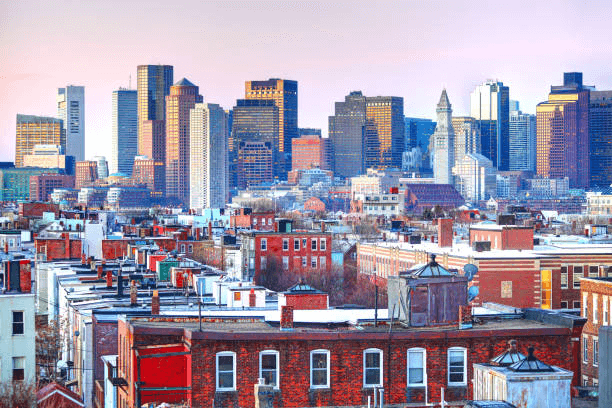 Factors to Keep in Mind When Buying Land
Buying vacant parcels anywhere in the city is a major endeavor. Even seasoned professionals are apt to feel overwhelmed by the process. Therefore, connect with Boston City Properties right away to lay the foundation for long-term success. Along the way, keep these factors in mind:
Have clear goals for the property that you acquire. That way, it will be easier to select a parcel that is suitably located and that otherwise has the characteristics you need to succeed in your investment or development objectives.
Watch out for zoning and permitting restrictions. Some parts of East Boston are impacted by historical district controls, including Eagle Hill. Different parts of the neighborhood have unique zoning regulations and other quirks, so it pays to have local insiders available to assist you.
Study local submarkets to identify the most promising areas for your plans. BCP can refer you to local agents and brokers across Eastie whose insights in this regard are sure to make a positive difference.
Look into the history of a parcel before buying it. How has it been developed in the past? What about adjacent lots?
Perform extensive due diligence. Carefully dig into property records to avoid liens and other issues that could compromise your plans. Never assume that anything is as it seems.
How Boston City Properties Can Help
BCP is a powerful ally in your search for developable lots for sale in East Boston. Our team can help in these and many other ways:
Listings – Sign up via our website to access our searchable Boston real estate listings immediately. In seconds, you'll have several properties to explore. Note that we also have access to off-market opportunities and can point you in their direction whenever you're ready.
Real Estate Experts – BCP has a network of skilled real estate brokers and agents throughout Eastie. We'll refer you to one whose background aligns with your development and investment objectives.
Local Expertise – You don't have to have connections with powerful insiders to find the perfect lot for development in East Boston. BCP knows the neighborhood and its real estate markets well, and our insider knowledge and connections will make it easier for you to achieve your goals.
Call Today to Jump-Start Your Search for Vacant Land in East Boston
If you're looking for vacant parcels for development or investment purposes in East Boston, one thing's for sure: You're not the only one. With fierce competition across the city, it's vital to line up the right resources and guidance from square one. Connecting with the professionals at BCP is the fastest, easiest way to do that. We understand Eastie, its submarkets and their intricacies like the back of our hand, and we're ready to help you realize your most ambitious goals. Contact us today for more information.
Click Here to Search
Land for Sale