Looking for Dorchester Land for Sale? Boston City Properties is Here to Help
If you're in the market to buy a vacant lot in Dorchester, Boston's largest and most populous neighborhood, you're in good company. More than ever, investors and developers are setting their sights on Dot, as it's affectionately known, thanks to major real estate booms in neighboring areas like South Boston and the Seaport District. Competition for the most promising properties is fierce, so it's essential to line up the right help from the start. Boston City Properties, a Boston commercial real estate leader, has you covered.
Click Here to Search
Land for Sale
Connect with BCP to Navigate Dot Real Estate Like a Pro
By working with the experts at BCP, you gain access to a wealth of resources and assistance that's sure to make a huge difference. It all starts with our vast database of searchable online Boston real estate listings. Sign up via our website for instant, free, unlimited access to kickstart your search. Our team has exclusive access to many exciting off-market listings too, and we can bring them your way whenever you're ready. BCP also has connections with numerous experienced and talented real estate professionals throughout Dorchester, and we'll refer you to one who specializes in your area of interest – whether it's multifamily housing development or buying and flipping developable parcels across the neighborhood.
Neighborhood Basics
With more than 130,000 people, Dorchester is by far the most populous neighborhood in Boston. It also stretches over nearly six square miles, making it the largest by area. Situated south of downtown Boston, Dot is bordered by the Boston neighborhoods of Jamaica Plain, the South End, Roxbury, Hyde Park and South Boston. It also shares borders with the communities of Milton and Quincy. Dorchester boasts five MBTA stations. It also has five on the Fairmount Commuter Rail Line and five on the Ashmont-Mattapan High-Speed Line. Interstate 93 runs through the neighborhood, offering easy access to Quincy, downtown, and beyond.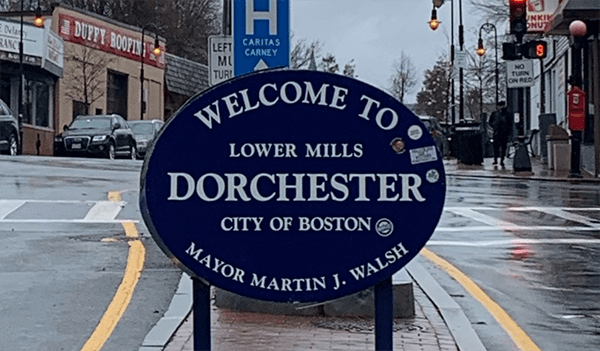 Neighborhoods and Districts
As massive and sprawling as it is, Dot is split up into many distinct neighborhoods and districts. It's split into two main sections, North Dorchester and South Dorchester. Major commercial areas in the neighborhood include Peabody Square, Uphams Corner, Fields Corner, Codman Square, Lower Mills and Adams Village. Major residential districts include Jones Hill, Savin Hill, Four Corners, Port Norfolk and Ashmont. Dorchester Avenue is the most significant thoroughfare in the area.
Commercial Real Estate
Along with South Boston, Dorchester had 22 office buildings offering 2.6 million square feet of space in the fourth quarter of 2021. The area also had seven lab buildings offering 1.4 million square feet – and that figure is apt to grow as firms are pushed out of hotspots like the Seaport and Kendall Square in Cambridge. Many new developments are underway across the neighborhood, with the Dorchester Bay City development among the most significant. The 36-acre former site of the Bayside Exposition Center is being developed into a sprawling life science and technology campus that's sure to have a positive spillover effect on adjacent areas.
Things to Consider When Seeking Vacant Land
Finding developable parcels for sale in Boston's largest neighborhood is easier said than done. Do yourself a favor and connect with Boston City Properties from the start to simplify the process. At the same time, keep the following points in mind before investing in any property in this sprawling neighborhood:
Have a clear vision for the property you acquire. With so many distinct real estate submarkets in Dot, it's vital to know what you plan to do with a piece of real estate here to ensure that it's ideally located.
Beware of zoning and permitting restrictions. Like most of the city, strict zoning ordinances impact nearly every square inch of space in Dorchester. It's easy to end up with a property that can't be developed how you want. BCP can help you navigate these issues.
Educate yourself about local submarkets. Which parts of Dorchester are best-suited for your long-term objectives? We have brokers and agents across the area who can quickly get you up to speed.
Examine historical trends for the parcel and adjacent areas. Doing this will reveal what is likely to work and what probably won't.
Do your homework before investing any money in real estate in Dorchester. After finding a promising option, have the property inspected. Carefully examine property records to avoid potential headaches like liens. Our network of real estate professionals can help you manage these issues, making it easier to find the right parcel the first time.
How BCP Can Help
You don't have to be a powerful real estate magnate to enjoy great success in Dorchester. By connecting with Boston City Properties, you can quickly acquire the resources and guidance you need to identify suitable options fast. We can help in the following ways and more:
Local Expertise – BCP and our brokers and agents know Dorchester and its real estate submarkets well. We can bring you valuable insights that will make a positive difference for you.
Real Estate Listings – As mentioned previously, we'll give you free, instant access to our searchable listings, giving you a great head-start on the process. Our team also has access to incredible off-market listings and can send them your way whenever you're ready.
Agents and Brokers – Our firm has connections with Dorchester real estate brokers and agents who understand the intricacies of local submarkets, and we'll refer you to one whose guidance is sure to be invaluable.
Contact Us Today to Find Vacant Land for Sale in Dorchester Fast
It's easy to feel overwhelmed and out of your element when looking for vacant parcels for sale in a bustling market like Dorchester's. Fortunately, you don't have to go it alone. Boston City Properties is here to help you succeed in even your most ambitious real estate endeavors, offering access to a wealth of resources and local assistance. In no time, you'll be on your way to acquiring the perfect property in Dot, so contact us today to get started.
Click Here to Search
Land for Sale