Locate Land for Sale in Chinatown with Boston City Properties
With its unbeatable location near the heart of downtown Boston, Chinatown has a lot to offer to developers and investors of all stripes. However, if you're looking for a parcel to develop in this densely packed neighborhood, you're in for an uphill battle. In the past several years, vacant lots in the area have been eagerly snapped up, resulting in the development of many new luxury condo and apartment buildings. To locate a property that suits your needs, it helps to have the right resources at your disposal. Connect with Boston City Properties to dramatically improve your odds of success.
Click Here to Search
Land for Sale
Team Up with a Proven Boston Real Estate Authority
Vacant space is exceedingly scarce in Chinatown, but that doesn't mean you should give up your plans for buying and flipping a parcel or developing something new and profitable there. The trick to achieving real estate investment and development success in this highly competitive market is lining up the right resources and assistance. Boston City Properties, a Boston commercial real estate leader, is here to help. We maintain a vast, constantly updated database of searchable Boston real estate listings, and we'll give you free access right away. Our team has connections with experienced real estate professionals in Chinatown, and we also have off-market listings we can share with you.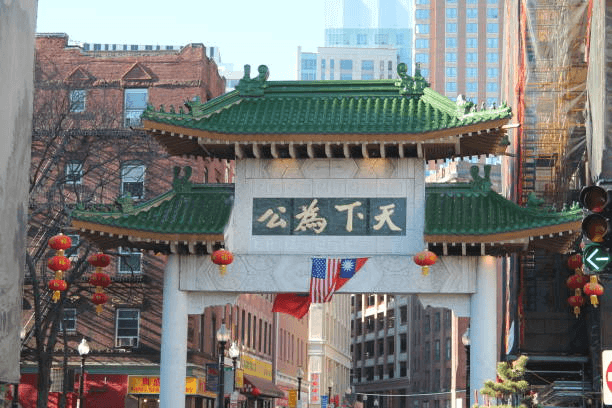 Neighborhood Basics
The population of Chinatown hovers at around 6,000 people, but they're packed into a tiny geographic area. Despite its small size, Boston's Chinatown is the third-largest Chinatown in the U.S. It's smaller than ever these days, having lost nearly half of its footprint to freeway development and several hospitals and other facilities associated with Tufts Medical Center. The neighborhood's main thoroughfare, Beach Street – located nearly half a mile from the harbor – got its name because it was once located on the waterfront. Much of the space in Chinatown has been reclaimed, as is the case with many other parts of the city.
Neighborhoods and Districts
Since it's been squeezed even smaller over the years, Chinatown doesn't really have distinct neighborhoods within its borders. The portion near the Leather District features many converted garment factories that now house luxury condos and apartments. Along Hudson Street, historic brick rowhouses dominate the scene. However, the vast majority of residents here rent rather than own, creating significant opportunities for multifamily housing development. Indeed, between 2000 and 2010, the number of housing units in the neighborhood increased by more than 50%.
Commercial Real Estate
The neighborhood continues to be a popular landing spot for immigrants from China, and mom-and-pop stores dominate much of its commercial real estate market. The development of many new luxury condo and apartment buildings has increased demand for various retail establishments and services, creating numerous opportunities for savvy developers and investors. The neighborhood's proximity to hotspots like Downtown Crossing and the Washington Street Theatre District make it a natural place for new commercial development; the problem is finding available space. Boston City Properties can assist you with doing so.
Considerations to Make When Seeking Land for Sale in the Neighborhood
Developable parcels are hard to come by in Chinatown, but that doesn't mean you should look elsewhere. If you find something that looks promising, be sure to keep these points in mind for smoother sailing through the process:
Have a clear plan in mind for the property you acquire. Knowing what you will do with it will make it easier to identify the right thing the first time.
Familiarize yourself with local submarkets. What types of properties flourish in the area? We can connect you with local agents and brokers who can provide crucial insights in this regard.
Be on the lookout for permitting restrictions. Historical district controls and strict zoning ordinances impact many parts of the neighborhood, so it's crucial to be aware of these issues before proceeding.
Perform in-depth research into any property you consider. Study property records carefully to avoid potential headaches down the road.
Check the history of the parcel and adjacent ones. What else has been developed on the site in the past? How did it perform?
How Boston City Properties Can Help
To make the most of your real estate investment and development efforts in a competitive market like Chinatown's, it pays to have the right help. BCP can provide it in these and many other ways:
Real Estate Listings – When you sign up through our website, you'll get instant, free access to our searchable listings, allowing you to check current availability quickly. We also often have off-market opportunities in the area and can show them to you.
Agents and Brokers – BCP has connections with experienced real estate agents and brokers throughout Chinatown, including ones who specialize in various types of properties. We can give you a referral to one whenever you're ready to proceed with your Chinatown real estate endeavors.
Local Expertise – By teaming up with BCP, you don't have to scramble to learn the ins and outs of Chinatown's fast-paced and competitive real estate submarkets. We know the neighborhood like the back of our hands, and we have connections with local insiders who can make a huge difference for you from beginning to end.
Contact Us Today to Find the Perfect Parcel in Chinatown
Unlike early in its history, new space isn't being generated in Chinatown anymore. If anything, the neighborhood's footprint has shrunk considerably over the years, and demand for the best parcels is perennially high. With its excellent location, proximity to hotspots like Downtown Crossing and exceptional public transit connectivity, Chinatown has a lot to offer to those who are willing to put in the time and effort to identify suitable options. Don't go it alone when seeking properties for development in this densely populated Boston neighborhood. Boston City Properties can help you locate options that suit your objectives, streamlining the process and boosting your odds of success. We're ready when you are, so contact us today for more information.
Click Here to Search
Land for Sale