September 12, 2022
Boston Leads U.S. in Lab Construction, Solidifying Status as a World Leader in Life Sciences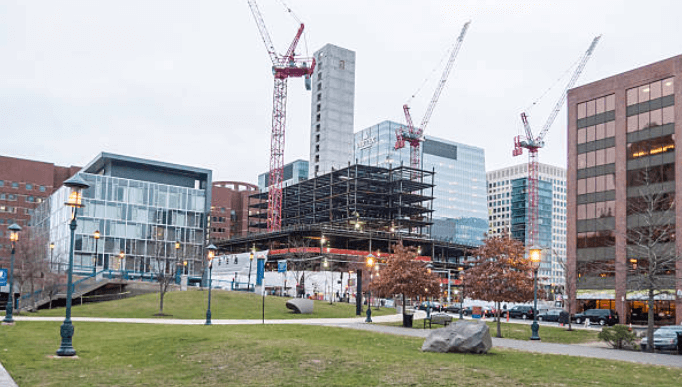 With more than 62 million square feet of lab space under construction or proposal as of early April, Boston now officially tops the Bay Area as the largest life science hub in the nation. In addition to boasting millions of square feet of existing life science real estate, the millions of additional square feet will easily catapult the city into the top slot in the U.S. This news comes as no surprise to industry insiders, as longtime clusters in Kendall Square and the Seaport are being joined by more far-flung ones in places like Somerville, Watertown and even Billerica.
To say Boston is a leader in the life science sector is an understatement of epic proportions. The Boston area, including Cambridge, had around 32 million square feet of life science space as of the first quarter of 2022. The Bay Area, including San Francisco, had around 34 million square feet. Currently, around 18 million square feet of new life science space is underway or proposed in the Bay Area. With 62 million square feet underway, Greater Boston will ultimately top the list for having the greatest amount of life science space in the U.S.
Many factors have converged to make Boston a formidable force in the life science world. According to a recent report, the Boston area ranks sixth in the nation regarding life science educational attainment. More than 840,000 residents aged 25 and over possess at least bachelor's degrees in science, engineering and related fields. Dozens of prestigious colleges and universities, including MIT, Harvard and Boston College, provide a ready pipeline of talent for biotech firms and startups across the region. On top of that, Boston is home to a vast array of prestigious teaching hospitals that attract some of the top talent in the world.
Technically, the Bay Area still has a larger talent pool than Boston, boasting the third-largest life science workforce in the nation. Life science firms occupy approximately 7.3% of office space in the area – more than 14 million square feet, all told. The area has many top-tier colleges and universities too, and the ongoing success of the tech industry and Silicon Valley ensures a steady stream of highly educated talent for the industry.
After Boston and the Bay Area, San Diego ranks third in the life science sector. Around 11% of the office space market is leased to life science firms, including biotech startups and pharmaceutical companies. New York ranks next, mainly thanks to its vast pool of educated talent; upwards of 2.5 million residents hold a minimum of a bachelor's degree in science, engineering and related fields. The other top-ranking areas in descending order are as follows: Washington, D.C., Chicago, Philadelphia, Raleigh, Seattle and Houston. The Hub has been known for years as the world leader in hospitals, education & robotics. Boston is now known as a top world leader in life sciences.
Ironically, the pandemic was a boon to Boston's life science industry. Even while office towers across the area emptied, demand for lab space remained steady. Several major pharma companies – Moderna, especially – kicked into high gear developing Covid vaccines, prompting even more V.C. and other funding to pour into the region. In turn, many former office buildings became candidates for conversion into labs. Today, office-to-lab conversions continue to be extremely popular, providing a viable alternative to ground-up construction in heavily developed areas.
An ongoing deluge of funding continues to make Greater Boston one of the top life science hubs in the world. Even pre-pandemic, billions of dollars poured into the area, spurred on by the presence of universities like Harvard and renowned hospitals like Brigham & Women's Hospital. Not surprisingly, Cambridge leads the pack in terms of funding dollars. Over the first half of 2022, biotech firms in the city raised more than $2.2 billion – more than 43% of the total amount raised across Massachusetts. Boston firms raised more than $1.5 billion, accounting for more than 30% of all funding in the state. Other communities, including emerging biotech hotspots like Watertown and Somerville, collectively raised more than $1.4 billion – roughly 27% of the total raised across the commonwealth. Incredibly, firms in the emerging life science cluster of Waltham raised more than $561 million of those dollars, capturing 11% of the total raised across M.A. All told, one-quarter of all venture funding going to the pharmaceutical sector in the country went to Massachusetts-based firms.
Even with a massive number of projects working their way through the pipeline, Greater Boston desperately needs more lab space. For several years, vacancy rates for lab space across the area have remained consistently below 2%. In hotspots like East Cambridge, that figure falls to well below 1%. As a result, firms have been moving beyond Boston and Cambridge to find suitable accommodations, explaining why so much funding poured into smaller cities like Waltham.
Since vacancy rates have been so low for so long, lease rates for lab space have skyrocketed. By the middle of 2022, for example, the average price for life science space in Cambridge stood at $118 per square foot. Meanwhile, across the river in Boston, the average stood at around $108 per square foot – not exactly a steal. Although it used to be cheaper to lease biotech space in the city proper, that's no longer true.
Even outlying areas are experiencing soaring lease prices for lab space. For example, the average price for lab buildings in Middlesex County – home to Cambridge, Waltham, Somerville and many other major life science hubs – ranges from $94 to $97 per square foot. In Worcester Co., the average ranges from $31 to $45 per square foot. In Essex County, the average ranges from $35 to $60 per square foot, and it ranges from $49 to $52 in Norfolk County.
Although tons more lab space is in the works, it's unlikely to alleviate things too much. Many projects are built on spec – without any tenants lined up –a strong indication of robust demand. Developers continue to spearhead life science projects on spec, suggesting that this trend is apt to continue for the foreseeable future. From startups to major corporations, life science firms of all shapes, sizes and scopes continue to vie for space across the region, and that's unlikely to change any time soon.
The spillover effect from surging lab space demand has affected communities across the region. In Boston, new labs are being built over the Mass Pike, at the former headquarters of major corporations like John Hancock and the former WeWork building at South Station. Many firms are setting their sights on rapidly emerging life science clusters, including Watertown, Somerville and Waltham. The former Suffolk Downs racetrack, located partially in Revere, will soon boast a $350 million drug manufacturing facility. Meanwhile, in the Seaport, Eli Lilly & Co. recently announced a $700 million investment to establish a genetic medicine research center in the neighborhood. Known as the Lilly Institute for Genetic Medicine, the state-of-the-art facility is another sign of the ongoing life science boom across the area.
How long will Boston remain in the top slot for life science real estate in the U.S.? If current projects and proposals are any indication, probably for a very long time. Therefore, life science real estate development projects in Greater Boston and across Massachusetts will continue to be profitable for many years.