Find Beacon Hill Land for Sale with Boston City Properties
One of Boston's most expensive and exclusive neighborhoods, Beacon Hill is always at the top of real estate investors' and developers' lists. If you're among them and are actively looking for developable parcels for sale in this tiny but highly desirable area, Boston City Properties can help. Although the neighborhood is small and opportunities don't come along too often, it pays to have the right help to ensure you have access to them when they do. Our team knows Beacon Hill and its real estate submarkets well and can help you achieve even your most ambitious objectives.
Click Here to Search
Land for Sale
Connect with the Boston Real Estate Authority to Streamline Your Search
Primarily residential in nature, Beacon Hill is home to some of the most exclusive real estate in the city. As the location of the Massachusetts State House, it's also a bustling area with lots of visitors and pedestrian traffic, making it ideal for commercial development. At any given time, numerous investors are looking for properties to develop in this neighborhood, which is why it's so vital to have the right resources and help at your fingertips. By signing up with BCP, you'll find investigating the available options more straightforward and less stressful.>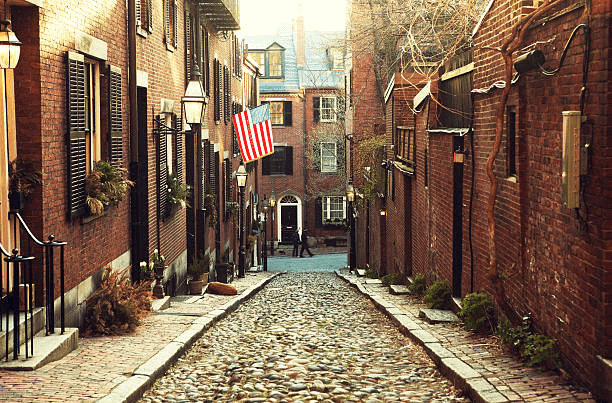 Beacon Hill Basics
Situated on an area less than one-sixth of a square mile in size, Beacon Hill is one of the tiniest neighborhoods in Boston. In 2020, around 9,000 people called the area home. Famed for its narrow, gaslit streets, chic brick sidewalks and elegant Federal-style rowhouses, Beacon Hill also enjoys a terrific location just north of Boston Common and Boston Public Garden. It's also situated on the Charles River and offers easy access to the Esplanade. Homes here are among the priciest in Boston, and commercial lease prices are on the high end too.
Neighborhoods and Districts
Despite its small size, Beacon Hill is split into several distinct areas. In particular, it has been broken up into the South Slope, North Slope and Flat of the Hill areas practically since its inception. The vast majority of the real estate here is residential, but pockets of commercial real estate exist as well. For example, Charles Street is packed full of upscale restaurants and various boutiques. The area near Suffolk University and Law School is also home to many retail enterprises. In terms of residential real estate, Louisburg Square, the site of numerous Greek Revival homes, is regarded as the most prestigious in the neighborhood.
Commercial Real Estate in the neighborhood
Beacon Hill isn't known for its office towers or life science developments, and it's not likely to switch gears any time soon. However, it enjoys close proximity to downtown and its vast array of commercial real estate options, including many Class A office towers. The neighborhood is also bursting with public transportation options, most of which are located just beyond its borders. The Park Street MBTA station offers service on the Red and Green Lines, the Charles/MGH station offers service on the Red Line and the Bowdoin station offers services on the Blue Line.
Things to Keep in Mind when Buying Land in Beacon Hill
If you've decided to focus your search on developable parcels within Beacon Hill's boundaries, you're going to need all the help you can get. Contact BCP early on to ensure the smoothest sailing possible. In the meantime, keep these factors in mind to identify suitable options more easily:
Learn about the local market. Where does luxury housing perform best, for example? Which commercial corridors and areas are best suited for your development and investment needs?
Have clear objectives in mind. Why do you want to procure a parcel in Beacon Hill? What are your long-term goals for the property? Understanding this is the key to locating the best options.
Investigate how other developments have done in the area. If you find a lot for sale, research what else has been developed there in the past. Was it successful? What about adjacent and other nearby properties?
Beware of potential permitting issues that could hinder your plans. Investigate any parcel that you consider carefully. Historic district controls affect many lots in Beacon Hill, and they can come between you and your goals.
Perform due diligence on any Beacon Hill property you consider. Ensure that you have accurate plat maps and other information on hand. BCP can connect you with knowledgeable real estate professionals in the neighborhood whose insights will help enormously during your search.
BCP: Your Source for Finding Suitable Land
Thanks to its compact real estate market and overall prestige, Beacon Hill has one of the city's most competitive real estate submarkets. Connect with BCP to find what you need more easily. We can help in these and many other ways:
Real Estate Agent Referrals – We have connections with real estate brokers and agents in Beacon Hill, including many who specialize in commercial real estate development. Our team can refer you to a suitable agent whenever you're ready.
Listings – Through our vast online database of searchable Boston listings, you can quickly check current availability for the type of property you need. Our team also often has off-market listings they can show you to increase your odds of securing the perfect parcel quickly.
Area Expertise – At Boston City Properties, we know Boston real estate, including the intricacies of Beacon Hill's competitive submarkets. With our insights, it will be easier to identify options that help you meet your investment and development goals.
Call Today to Kick-Start Your Search
When it comes to Boston real estate, you can't go wrong by investing in developable lots in Beacon Hill. The neighborhood is among the best-known and most prestigious in the city, and demand for luxury housing is perennially high. Its proximity to downtown and other vibrant neighborhoods makes it an excellent place for new commercial developments too. Boston City Properties is here to help you identify and procure the perfect property in this fascinating neighborhood. Give us a call today to get started.
Click Here to Search
Land for Sale