Purchase Back Bay Land for Sale with Boston City Properties
Do you want to buy a vacant parcel in Back Bay, Boston? As one of the city's most densely populated and developed neighborhoods, that's easier said than done. Originally a literal bay that was filled in for development, Back Bay is one of the most desirable areas in the city. Just about every square inch of the neighborhood has been developed again and again through the years, but that doesn't mean you're out of luck. Now and then, Back Bay parcels hit the market, presenting exciting opportunities for investors and developers. By connecting with Boston City Properties, you can more easily find and procure the property you need.
Click Here to Search
Land for Sale
Improve Your Odds by Connecting with the Proven Boston Real Estate Authority
There's no doubt about it: Competition for developable parcels in Back Bay is exceptionally fierce. The neighborhood has a bit of everything, from soaring office towers to luxury condo buildings to charming rowhouses converted for commercial use. By connecting with BCP, you'll have an easier time identifying and purchasing parcels in Back Bay that align with your goals. We'll give you immediate, free access to our searchable online real estate listings, point you toward amazing off-market listings and connect you with local real estate professionals who know the ins and outs of local submarkets.
Basics
If you know anything about Boston real estate, you're undoubtedly already familiar with Back Bay. The neighborhood is renowned for its upscale shopping, primarily along Newbury and Boylston Streets. Prized for its prime location adjacent to downtown Boston, Fenway and the South End – and just across the Charles River from Cambridge – Back Bay is home to Boston's tallest skyscraper, the John Hancock Tower. Incredibly well-connected in terms of public transit, it is home to four Green Line MBTA stations and one Orange Line station.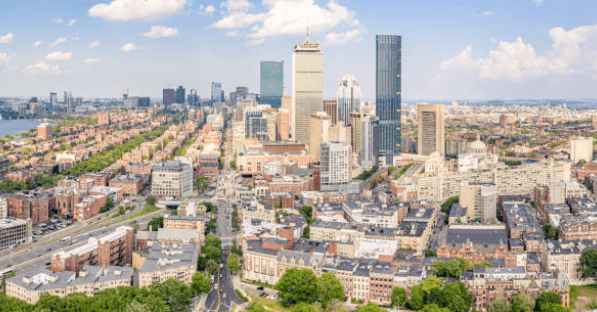 Neighborhood and Districts
Back Bay doesn't have defined neighborhoods or districts, but it's split up into distinctive areas that offer many options for development. The High Spine area, where all the soaring office towers are found, is a bona fide business district where Class A asking rents average around $75 per square foot. The Esplanade along the Charles River connects some of the best luxury housing with prime commercial areas. Copley Square is the epicenter of the community, offering farmer's markets and other events throughout the year. Most of the Victorian rowhouses in the neighborhood have been converted for business use, but some have also been split into apartments and condos.
Commercial Real Estate
When it comes to Boston commercial real estate, you'd be hard-pressed to find a better or more versatile location than Back Bay. Newbury and Boylston Streets continue to offer some of the best shopping and dining in the city. Other major shopping and dining enclaves include Copley Place and the Prudential Center. Office space abounds in Back Bay, home to more than 70 buildings offering more than 15 million square feet of space. Lately, lab space has become a hot commodity in the neighborhood too. As of the fourth quarter of 2021, Back Bay boasted one lab property offering 250,000 square feet.
Things to Consider when Buying Land in the Neighborhood
When searching for developable parcels for sale in an in-demand area like Back Bay, it's crucial to arm yourself with the right resources and assistance. Boston City Properties is here to provide all of that and more. In the meantime, here are some tips to keep in mind when looking for vacant lots for sale in this vibrant neighborhood:
Think long-term. In other words, what are your plans for the property that you buy? Do you want to develop a new hotel or retail development? Perhaps you'd like to build new luxury housing. Knowing what you're going to do with the parcel makes it easier to locate the right option.
Understand the local market. For any new development to succeed, it needs to be appropriately located. BCP can help you identify the perfect areas in Back Bay for whatever objectives you have in mind.
Investigate permitting requirements before buying anything. For example, many parcels in Back Bay are affected by historic district controls. It pays to know this ahead of time.
Do your homework. Make sure the property you're considering is exactly as presented. Have the lot inspected and even surveyed, if need be, to avoid conflicts in the future.
Study historical trends in the area. What types of businesses and developments seem to thrive there? Do your development plans make sense given the immediate surroundings?
How Boston City Properties Can Help
With so many people vying for developable land in Back Bay, it's easy to feel overwhelmed. Fortunately, Boston City Properties is here to help. When you work with us, you enjoy the following and more:
Experienced Real Estate Professionals – We have talented and experienced agents and brokers across Back Bay and can refer you to the optimal one whenever you're ready.
Real Estate Listings – As soon as you sign up with BCP, you'll get free, unlimited access to our searchable online listings – a significant first step in finding what you need. Our team also often has off-market opportunities and can point you toward the best ones.
Insider Insights – More than anything, the team at BCP knows Back Bay real estate. Our in-depth understanding of the intricacies of the neighborhood's submarkets makes us a valuable ally in your search for parcels that align with your objectives.
Contact Us Today to Get Started!
Things are constantly evolving in vibrant Back Bay, and real estate is no exception. Although most of the area is highly developed, lots and parcels suiting various development needs hit the market from time to time. The best way to find and make the most of them is by connecting with Boston City Properties. With our assistance, you'll have the knowledge and resources you need to pinpoint properties that dovetail with your investment and development goals. Please call today for more information.
Click Here to Search
Land for Sale